Shutdown stopped their lessons
Children of chars with no access to electricity or TV deprived of remote learning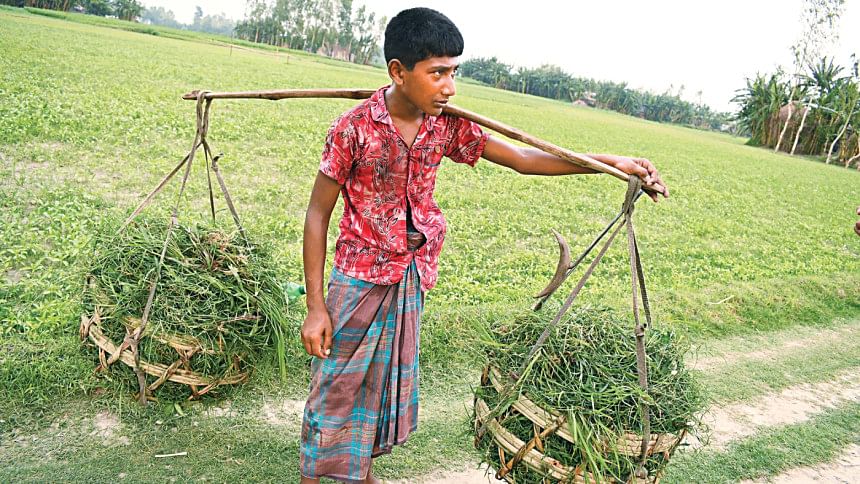 Schoolchildren in char areas do not even have the chance of accessing the government's remote education programme because their families don't own televisions or have electricity.
After educational institutions countrywide were indefinitely closed in mid-March due to the coronavirus outbreak, the government introduced televised learning from March 29 for classes six through 10 -- later expanding it to include primary students as well.
Char students, however, are deprived of their daily lessons as entire chars on the Padma, Jamuna, Teesta and other major rivers are not under electricity coverage. Televisions, therefore, are rare in these communities.
This correspondent visited five chars on the Jamuna river last month, none of which had electricity. Only several families on each had solar panels, which they use to charge mobile phones and power fans and TVs for those who have them.
Young children and teenagers, from primary to the college level, were seen whiling away the time playing with their friends. Some were working in the fields or otherwise helping their parents.
Eighteen-year-old Md Shakil Mia, from Char Batiaya in Bogura's Sariakandi upazila, is in the first year of HSC at Sariakandi Degree College.
For a teenager on the chars, access to the outside world is limited anyway. Shakil's family has no television at home and no one owns a smartphone -- meaning he cannot take advantage of remote learning at home as others.
"Since the college closed, I am either sitting at home or playing cricket with others. I heard TV classes are going on, but I don't have that opportunity," said Shakil.
Md Tarek Sarker, a fourth-grader from Char Batiaya, said, "The school is closed and I am doing nothing except playing with my friends all day long. There is no one at my home to teach me."
On the chars, there is no alternative to school education -- digital or otherwise.
A parent on Kuripara char, with a population of 3,000, 38-year-old Bablu Mia's two children study at the local government primary school.
"After the school closed, they have no opportunity to learn to read and write at home as my wife and I are both illiterate."
Poor families on the chars have also come to depend on the stipends their children receive for attending school, under the government's Primary Education Stipend Programme.
On Moiyurer Char, 40-year-old Kohinoor Begum has two children in the local government primary school.
"My elder son Alam is in class five and he would get Tk 300 and my daughter in class one would get Tk 150 each month. These last two months, they are not getting this money from the school after it was closed."
According to the Gaibandha district primary education office, there are around 100 primary schools in char areas under Gaibandha Sadar, Saghata, Fulchari, and Sundarganj upazilas. There are around 15,000 students studying in these primary schools.
There are also over 5,000 schoolchildren from the chars who study in schools on the mainland, said Md Hosen Ali, Gaibandha district primary education officer.
"Electricity and TVs are rare in the char areas of Gaibandha. In very few houses, you can find a TV run by solar power or charger-battery," Hosen Ali told The Daily Star.
"It's difficult to arrange online education for char students, but the government is trying to provide online education for every student who lives on the mainland."
There are also eight high schools and three madrasas in the char areas of Gaibandha district, where the number of students is more than 5,000, said Md Enayet Hossain, district secondary education officer.
In Sariakandi upazila of Bogura, there are 47 primary schools, six high schools and four Ebtedayee madrasas in the Jamuna chars, according to the upazila primary and secondary education office. Students number more than 10,000 in total.
Additionally, around 2,000-3,000 students from the chars regularly attend upazila town educational institutions, said Md Shahidul Islam, secondary education officer of Sariakandi upazila.
He, however, claimed many students on the chars have TVs and access to the internet and if interested, can access the government's online education programme.
"Students who are living on the mainland are also showing less interest in online education," said Shahidul.
In chars under Bogura's Sonatala upazila, there are 10 government primary schools and a Dakhil madrasa where around 1,000 children study.
This is in addition to around 400 students who live on the chars but attend schools and college in the upazila town, said Md Azizar Rahman, secondary education officer of the upazila.