Salam, Ataur at AL Ctg north helm
Brawl breaks out between two factions before council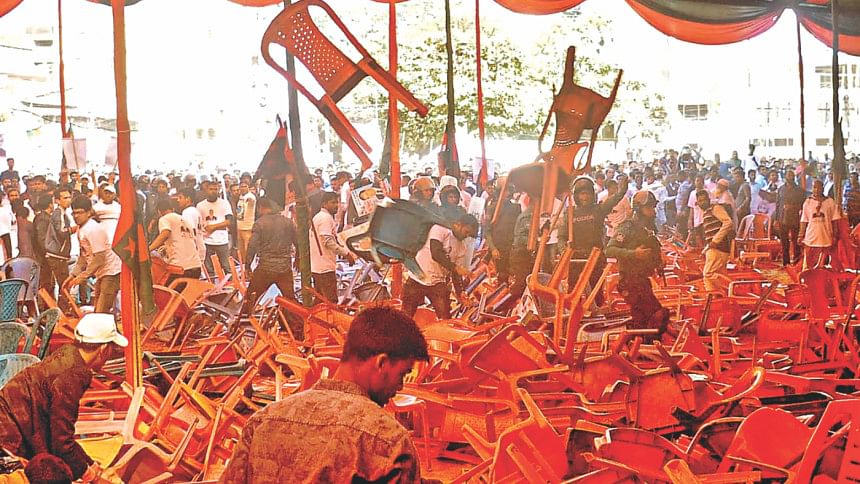 In a programme marred by violence, Awami League named MA Salam and Sheikh Ataur Rahman as the president and general secretary of its Chattogram (north) unit for the next three years.
AL General Secretary Obaidul Quader announced the names yesterday at the triennial council of the unit held after seven years at International Convention Centre in the city's Kazir Dewri area.
Out of 366 delegates present at the programme, 350 cast their votes to elect the leaders.
Salam bagged 223 votes while his closest candidate ABM Fazle Karim Chowdhury got 129 votes. And Ataur bagged 196 votes defeating the closest Gias Uddin by 45.
The unit's new president said he would keep working on enhancing the organisation's capacity to make Vision 2021 come true. "I will do justice to the faith that you have shown in me."
Seeking anonymity, activists of the unit said leaders including Obaidul wanted to select new leadership through a consensus. But the attempt failed because of a brawl between the supporters of the two general secretary candidates.
The brawl took place prior to the start of the council's first session at Laldighi Maidan around 10:00am.
Followers of both Gias, former Mirsarai upazila chairman, and the newly elected general secretary Ataur, also former president of Mirsarai AL, locked in altercation at the entrance of the programme.
A scuffle followed and at one point the members of the factions started throwing chairs at each-other, reports our Chattogram correspondent.
The brawl was stopped with the intervention of the party leaders and police. However, none of the party members agreed to make any comment about the incident.
In the session, Obaidul, also the road transport and bridges minister, said BNP's dream of assuming power would turn into a nightmare if they remain engaged in conspiracies.
"Awami League doesn't want BNP's destruction. They [BNP] are inflicting damage to themselves. In a strong democracy, we always want a strong opposition."