Rohingya Repatriation: Tripartite meeting on January 19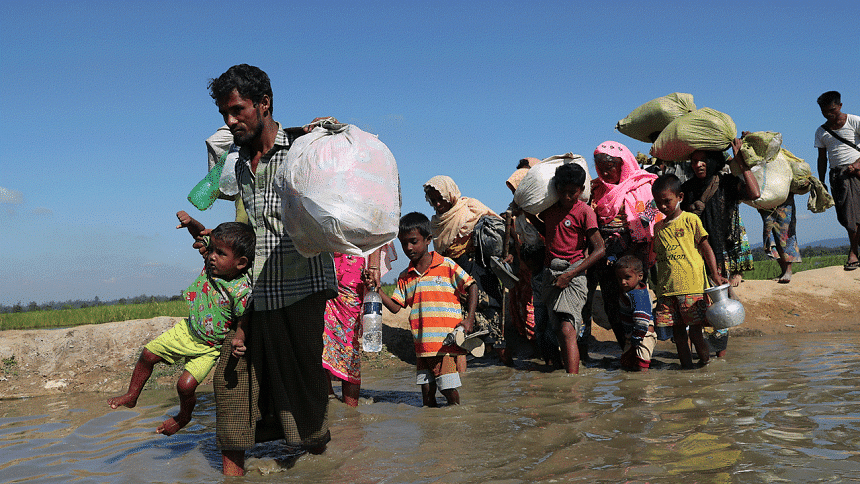 A tripartite meeting between Bangladesh, China and Myanmar will take place in the capital on January 19 with Dhaka seeking quick start of Rohingya repatriation that has not been possible in more than three years since the refugee influx.
This will be second such meeting between the three countries. Earlier, they held a foreign minister-level meeting on the sidelines of the UN General Assembly in New York in September 2019.
Ambassadors of China and Myanmar in Dhaka and an official of Bangladesh foreign ministry are expected to lead their respective delegations at the meeting, said a foreign ministry official, seeking anonymity.
Talking to The Daily Star yesterday, Foreign Minister AK Abdul Momen said, "We are hopeful that China will play a vital role here. What we want is quick start of repatriation of the Rohingyas."
He also mentioned that Chinese Foreign Minister Wang Yi on Tuesday held a meeting with Myanmar high-ups in Naypyidaw where he sought to expedite the repatriation of Rohingya refugees from camps in Bangladesh.
China, a major investor in Myanmar, plays a crucial role in peace negotiations between Myanmar's army and ethnic armed groups. China is also a major trade and development partner of Bangladesh.
Two attempts to repatriate the refugees to their homeland ended in failure after around 750,000 Rohingyas took shelter in Bangladesh to escape a brutal military crackdown in Myanmar's Rakhine State in August 2017.
Rohingyas say there is no guarantee of safety, citizenship and basic rights in Rakhine where many Rohingyas were killed, women raped and their houses burnt -- for which Myanmar now faces a genocide case in the International Court of Justice.
Bangladesh, meanwhile, has faced serious socio-economic, environmental, security and diplomatic challenges due to the presence of some one million Rohingyas, many of whom fled to Bangladesh since 1980s.
The foreign minister has said the presence of such a large number of Rohingyas for an indefinite period can create regional instability and thereby hamper peace and development in the region. The start of the Rohingya repatriation is of utmost importance.
Momen on Wednesday told journalists that Bangladesh handed over to Myanmar a list of 8.4 lakh Rohingyas for verification but it has so far verified only 42,000 people.
"Myanmar is a friendly country. They are not our enemy. We've nothing against Myanmar. It must create a conducive environment as Bangladesh wants to see the return of Rohingyas to Myanmar in safety and security." 
The minister said he is hopeful about the repatriation as Myanmar had taken back its nationals in 1978 and 1992.
Meanwhile, the Human Rights Watch has said the squalid and oppressive conditions imposed on some 600,000 Rohingyas in Rakhine State amount to crimes against humanity, including apartheid and severe deprivation of liberty.
They are subjected to government persecution and violence, confined to camps and villages without freedom of movement, and cut off from access to adequate food, healthcare, education and livelihoods, the HRW said in its World Report 2021 released Wednesday.
The Myanmar government has repeatedly violated basic civil and political rights, and failed to hold the country's security forces accountable for atrocities against ethnic minorities, noted the New York-based global rights watchdog.
The ruling National League for Democracy (NLD) party overwhelmingly won the November 8 election last year, which was marred by serious problems. Prior to the vote, the government prosecuted its critics, censored opposition party messages, and did not provide equal access to state media, it noted.
Systemic problems include the continued ethnic Rohingya disenfranchisement, reservation of 25 percent assembly seats for the military, and the lack of an independent and transparent Union Election Commission, mentioned the watchdog.
Phil Robertson, deputy Asia director at the HRW, said, "Aung San Suu Kyi and the ruling National League for Democracy have turned their backs on human rights concerns since taking power, betraying promises to Myanmar's people to revoke repressive laws and break with abusive past practices.
"By winning a significant parliamentary majority, the NLD has an opportunity to introduce rights-respecting reforms that would protect everyone."