Rohingya Lensman: 51 eminent citizens call for release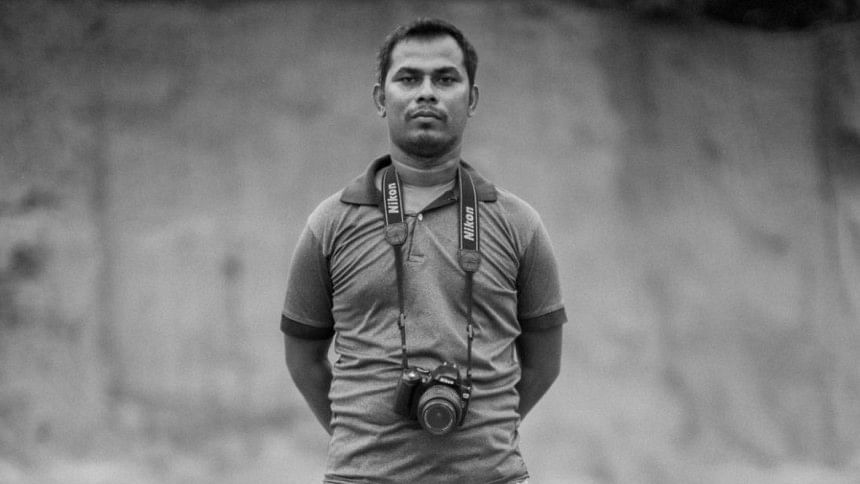 Fifty-one academics, human rights activists and lawyers have issued a statement demanding the release of Rohingya photographer Abul Kalam, who they claim landed in jail on Thursday for taking photos of buses departing Kutupalong for Bhasan Char.
Photographer Abul Kalam was brought to the Senior Judicial Magistrate Court in Ukhiya on Thursday with charges of impeding officers from discharging their duties during an incident that happened over seven months ago, according to court documents obtained by The Daily Star.
Organisers said Kalam was sent to Cox's Bazar Jail by a magistrate on Thursday.
However, Public Prosecutor Faridul Alam of Cox's Bazar said he was not aware of any such development.
The Daily Star has not been able to independently verify whether Kalam was sent to jail.
The case in which Kalam has been accused was filed by Kutupalong Camp-in-charge Khalilur Rahman on June 1 last year, according to the first information report.
It said the accused assaulted officials and obstructed public servants from discharging their duties.
Khalilur Rahman's phone was found switched off last night.
The statement issued yesterday read, "On the morning of December 28, 2020, Abul Kalam, an award-winning photographer and Rohingya refugee, set out to take photographs of buses departing the Kutupalong camps for Bhasan Char. He was apprehended and then taken to the camp-in-charge in Camp 2W, Block D5 of Kutupalong, and subsequently, to the camp-in-charge of Kutupalong Registered Camp."
The signatories to the statement include Dr C R Abrar, eminent rights activist; renowned photographer Shahidul Alam; Sara Hossain, honorary executive director, Bangladesh Legal Aid and Services Trust; Dr Ambia Perveen, chair, European Rohingya Council; Professor Dina M Siddiqi, Faculty of Liberal Studies, New York University; Shireen Huq, coordinator, Standing with Rohingya Women, and founding member of Naripokkho; Ai Weiwei, Chinese contemporary artist and activist; and Bianca Jagger, a Council of Europe goodwill ambassador.
"Photography is not a crime. Abul Kalam was taking photographs of buses on their way to Bhasan Char. He was doing so in a public place, albeit in a refugee camp. The relocation to Bhasan Char is a widely publicised programme of the Bangladesh government. It is by no means a secret and has been extensively covered in the media," said the statement.
The statement said Abul Kalam has been a refugee in Bangladesh for 28 years.
"Abul Kalam is 35 years old. He originally came from Borgozbil, Maungdaw, Myanmar. He is a prolific photographer and has documented refugee life in recent years. His images have appeared in many publications, and he recently won two prizes in the Rohingya Photography Competition," said the statement.
"We call upon the authorities to release Abul Kalam unconditionally and without further delay," the statement said.
The case in which he was accused was filed against 10 named and 30-40 unnamed Rohingya refugees.
The forwarding letter presented to the court shows Kalam is one of those unnamed accused.