Rohingya Crisis: UNSC efforts fall short of concrete actions
Foreign minister says at UNGA event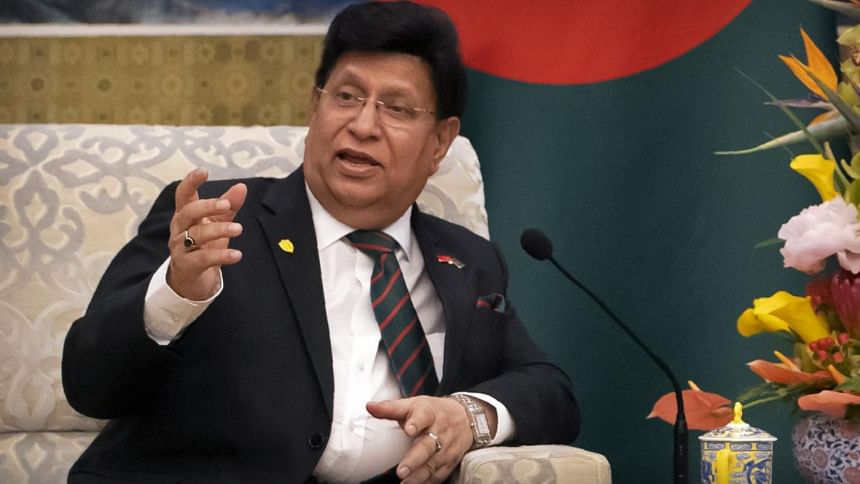 Bangladesh has urged the UN Security Council to take urgent measures to resolve the crisis in Myanmar so that the Rohingyas can return to their homes safely and with security and dignity.
Taking part in an event at the UN General Assembly in New York Tuesday, Foreign Minister AK Abdul Momen said efforts of the UN Security Council in addressing the Rohingya crisis have always fallen short of concrete actions.
He expressed hope that the UN Security Council would fulfill its charter obligations in addressing the crisis in Myanmar, which is going through severe turmoil since a military coup on February 1 this year.
In 2017, some 750,000 Rohingyas fled a brutal military crackdown in Myanmar's Rakhine State, putting a huge burden on Bangladesh. Now, with the condition in Myanmar deteriorating, the Rohingya return gets even more uncertain.
Momen, who arrived in New York on June 13 to attend two events -- on Myanmar crisis and the other on LDC at the UNGA -- also urged the international community, countries of the region and other stakeholders to address the root causes of the Rohingya crisis, says a press release of Bangladesh Permanent Mission to the UN in New York.
At the high-level virtual discussion "The current situation in Myanmar: implications for Rohingya Minority" organised by the Bangladesh Permanent Mission, he said it was important to fulfil Rohingyas' fundamental right to return to their homes safely and with security and dignity.
The permanent missions of Canada, Saudi Arabia and Turkey and the Global Centre for Responsibility to Protect co-sponsored the event.
The foreign minister presented the keynote speech while President of the UN General Assembly Volkan Bozkir joined him to share experience from his recent visit to Cox's Bazar, said the release.
Momen said Bangladesh was doing everything to ensure the wellbeing of the refugees despite severe resources and space constraints.
Referring to the newly established accommodation facility for the Rohingyas in Bhasan Char, he said after thorough assessment, the UN and the development partners expressed satisfaction with the arrangements in the island and were now considering to open their operations there.
Bangladesh's Permanent Representative to the UN, Rabab Fatima, opened the discussion that was addressed by Special Rapporteur on the situation of human rights in Myanmar Tom Andrews, Special Adviser of Secretary General on Prevention of Genocide Alice W Nderitu, permanent representatives of Canada and Turkey and Rohingya activist Wai Wai Nu.
Executive Director of GCR2P Simon Adams moderated the panel discussion.
The panelists commended Bangladesh's remarkable humanitarian gesture and expressed their support in resolving the Rohingya crisis in a sustainable manner, the release added.
They all recognised the need to address the root causes of Rohingya crisis which lie in Myanmar, and support the ongoing accountability processes to ensure justice to the victims of human rights violations in Myanmar.