RMG Workers' Demo: Voices for Eid bonuses, pay, work get louder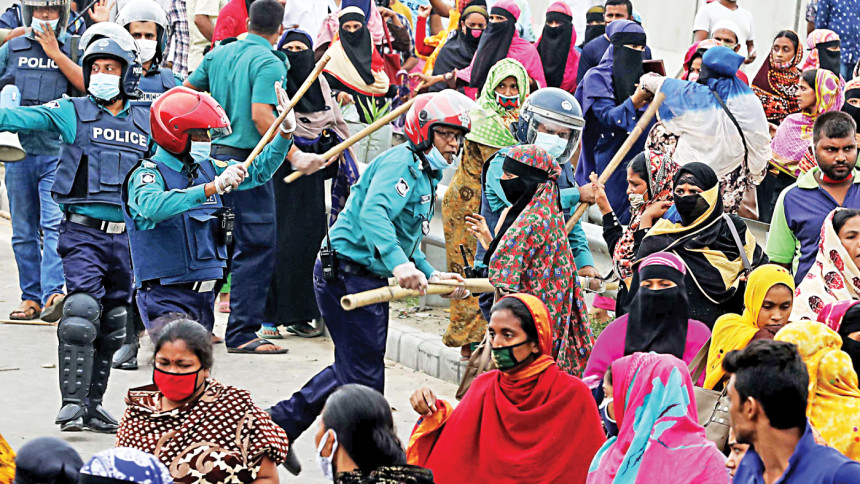 Workers of at least 50 garment factories in Ashulia, Savar, Gazipur, Narayanganj, and Chattogram demonstrated yesterday, demanding their arrears, Eid bonuses, and salaries for the month of May, said industrial police.
They also vandalised factories and put barricade on the Dhaka-Mymensingh highway in Gazipur.
In Ashulia, around 500 workers and staffers of Reza Fashions Ltd at Gorat took to the streets, demanding reopening of the factory, full Eid bonuses, and arrears.
Workers said the authorities closed the factory for an indefinite period as workers demonstrated inside the factory.
Police said the factory has more than 1,000 workers and 200 staffers. They indulged in vandalism inside the factory on Tuesday.
The Daily Star could not reach Shawkat Reza, managing director of Reza Fashions Ltd, for his comments as he did not receive phone calls.
Several hundred workers of two garment factories in Narayanganj demonstrated for full Eid bonuses and salary for the month of May. Some of them blocked Dhaka-Adamjee-Shimrail road.
In Chattogram, workers of a factory have been demanding bonuses for the last two days.
Workers of Ittadi Jeans Ltd blocked Muradpur-Oxygen road for three hours since 9:00am to 12:00 noon yesterday.
The agitators said they gathered in front of the factory gate in the morning as the authorities earlier promised them that their bonuses would be paid yesterday. But they did not get their bonuses.
Amena Khatun, a sewing machine operator of the factory, said, "They promised us that they will give our bonuses today [yesterday], so we withdraw the demonstration."
The authorities agreed to give them 50 percent of their bonuses in a meeting with police, she said.
Priton Sarkar, officer-in-charge of Bayazid Bostami Police Station, they held a meeting with top officials of the factory and the authorities promised them of paying the bonuses as soon as possible.
Later, the workers withdrew the demonstration.
Meanwhile, leaders of Bangladesh Garment Manufacturers and Exporters Association (BGMEA) and Bangladesh Knitwear Manufacturers and Exporters Association (BKMEA) in a joint statement threatened to shut their factories if the incidents of unrest were not stopped.
Many factory owners have yet to get loans from the government announced Tk 5,000 crore stimulus package because of their insufficient documents.
The statement also said some factories were failing to pay their workers as they were short of cash for not getting payment from their buyers and for work orders from their international retailers and brands.
Our correspondents in Savar, Gazipur, Narayanganj, and Chattogram contributed to this report.