Relief scarce in flood-hit areas
Many face starvation as govt relief 'inadequate'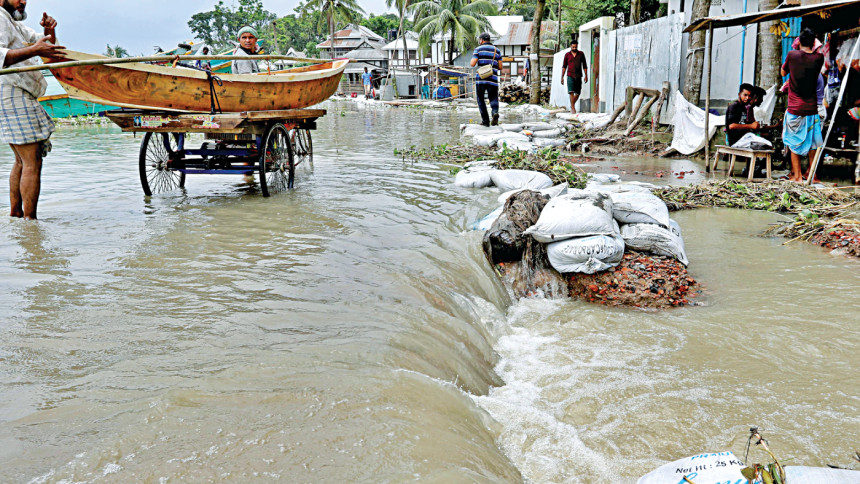 Many flood-hit people are passing their days in starvation as the government's relief allocation is insufficient, victims said.
In some places, flood victims alleged the local people's representatives of nepotism in distributing relief, thus depriving those in actual need of aid.
Besides in some areas, flood relief work has been halted as government officers are busy with the VGF (vulnerable group feeding) programme ahead of Eid ul Azha.
However, government officials assured that flood-hit people will also receive food under VGF.
Over 37 lakhs people of 143 upazilas in 30 districts have been affected by flood, according to a report of National Disaster Response Coordination Centre (NDRCC).
The government has distributed over 6,593 tons of rice, over Tk 2.38 crores in cash, some 66,872 packets of dry food and other relief materials among the victims, said the NDRCC report.
In Tangail, where around 2 lakh people are affected by flood, the government distributed some 355 tons of rice, Tk 8 lakhs in cash, Tk 2.5 lakh for baby foods, Tk 2 lakh for fodder and 6,000 packets of dry foods among the victims.
However, many union parishad (UP) chairmen and members are saying the relief amount is not sufficient to cover all flood victims.
UP chairman Moniruzzaman Monir of Gabasara, the worst hit area in Tangail's Bhuapur upazila, said 13,000 people have been  affected by flood in his union.
He could distribute the 24 tons of rice he had received from the government among only one-fourth of the victims -- 2400 families each receiving 10 kg of rice.
Two other chairmen shared the same problem. However, they have already received the allocation of rice under the VGF programme.
Tangail's Deputy Commissioner Md Ataul Gani told The Daily Star that they have enough relief materials on their hands.
"As the flood may prolong till mid August, we are distributing the relief in phases and all the affected people in need were brought under the relief operations," he said.
The DC added that cooked food was distributed in the worst affected char areas of Bhuapur and special food will be given to all the poor, including flood victims.
In Lalmonirhat and Kurigram, around 4 lakh flood-hit people in the Brahmaputra, Teesta, Dharla, Dudhkumar and other river-basins are facing a food crisis.
Sahera Bewa, a flood victim from Dawabari area under Lalmonirhat's Hatibandha upazila, said her family has been going hungry for the last few days.
"We don't have enough money to buy food. But nobody came to us with food assistance," she said.
Another flood-victim Nur Islam of the same area alleged that UP chairmen and members are giving the government's relief only to their favoured persons.
Lalmonirhat's DC Md Abur Jafor said they would take necessary measures to ensure real poor and vulnerable people get relief.
In Nilphamari, the government's relief programme has remained stalled for the last one week, said victims and local people's representatives.
"We didn't get any relief for the last one week. We are passing days almost in starvation as no one came to help us," said Shahinur Mia, a resident of char Kharibari under Dimla upazila.
Cepa Kharibari's UP Chairman Monirul Haque confirmed Shahinur's claim.
The District Relief and Rehabilitation Officer (DRRO) H M Hayat assured that flood victims would also receive food under the VGF programme along with more than one lakh poor families in the district.
In Sirajgnaj too, many flood victims complained of not receiving any relief.
"We are living in water for over a month but nobody comes to give us some relief," said Kohinur Begum of Betilchar village in the district Chowhali upazila.
The village has been waterlogged since last month.
Contacted, the DRRO Md Abdur Rahim said flood relief work has been stalled from the early this month as they are busy with VGF.
In Manikganj, the Jamuna river's water is rising one centimetre per hour, deteriorating the flood situation in the district. More than two lakh people have been marooned.
Our correspondents from Lalmonirhat, Nilphamari, Tangail, Pabna and Manikganj contributed to the story.