'The rights of citizens have been violated'
20 eminent citizens say about action on 'anti-Modi' protesters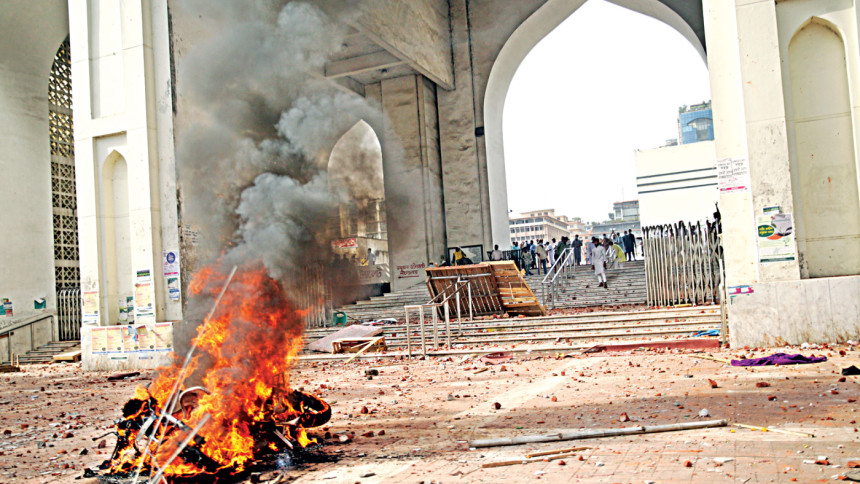 Twenty eminent citizens in a joint statement yesterday demanded punishment for those responsible for attacking "anti-Modi" protesters and carrying out violence in Chattogram's Hathazari in the last couple of days.
"We think that Bangladeshi citizens have the right to stage protests over the arrival of Indian Prime Minister Narendra Modi. But it is a matter of grave concern that people from different walks of life and some progressive student organisations have become victims of torture by police and Chhatra League while staging protests in the last couple of days," said the statement.
Besides, a tragic incident took place in Chattogram where four madrasa students were shot dead by police, it said.
The eminent personalities strongly condemned those incidents and demanded trial of those, including policemen, officials and other persons, responsible for the incidents.
"We think citizens' fundamental rights have been violated and the celebrations marking the Independence Day have been tainted through carrying out these attacks.
"We all have to keep in mind that people have constitutional rights and freedom to stage protests in a disciplined manner," the statement said.
The 20 citizens said they thought that the ill-attempt to restrict the rights by opening fire and carrying out torture during the celebrations of 50 years of independence is a cruel mockery of the aim of the country's independence and the spirit of Liberation War.
The signatories to the statement are: M Hafiz Uddin Khan, Ali Imam Majumder, Prof Anu Muhammad, Badiul Alam Majumdar, Syeda Rizwana Hasan, Sara Hossain, CR Abrar, Dr Zafrullah Chowdhury, Asif Nazrul, Shahidul Alam, Hasnat Quaiyum, Nur Khan Liton, Shireen Huq, Jakir Hossain, Perween Hasan, Lubna Marium, Sharmeen Murshid, Firdous Azim, Naila Zaman Khan and Rahnuma Ahmed.
In a separate statement, Ain o Salish Kendra (ASK) yesterday expressed concern and condemned Friday's incidents in Chattogram and Brahmanbaria.
It also demanded fair probes into those incidents and legal actions against those responsible for the violence.
On Friday, four people were killed in Chattogram and one was killed in Brahmanbaria in clashes between supporters of Hefajat-e-Islam and police.