Private project with state money!
Pvt university in Bandarban builds reservoir with Tk 1.35cr from govt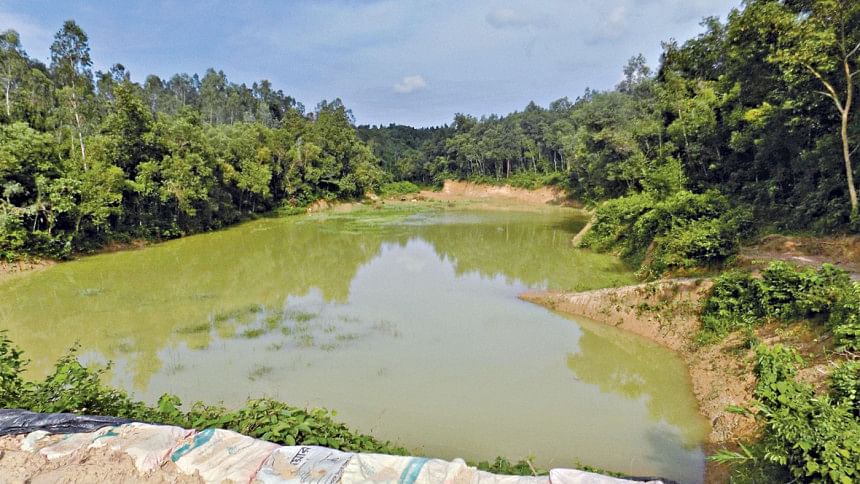 A private university in Bandarban spent Tk 1.35 crore of the government's fund to construct its water supply channel.
At a time when villagers were leaving their ancestral neighbourhoods due to water crisis, Bandarban Hill District Council (BHDC) gave the amount to a private university named Bandarban University to establish its own water supply channel.
The university is founded by Bir Bahadur U Shwe Sing, minister for the Ministry of Chattogram Hill Tracts Affairs, and his brother-in-law Kwe Shwe Hla, who is also the chairman of BHDC, according to the university's website.
Although the university claimed to be the country's first public-private partnership university on its website, the website of University Grants Commission (UGC) listed it as a private university.
Dr Fakrul Islam, director of Private University Division at UGC, said confirmed The Daily Star that Bandarban University is a private university which has been registered under the Private University Act, 2010.
Visiting the university, this correspondent found that two retaining walls and a drain were already set up cutting hills to construct a dam for the water supply channel.
Asked, Mong Oyai Ching Marma, assistant engineer of the project, said, "BHDC spent Tk 1.35 crore to construct this dam at Sualok union area. Currently, the dam doesn't have enough water but it will be available in future.
"The higher authorities undertook this project considering the water supply channel of Bandarban University."
Asked whether the district council could take up such huge amount project for a private university, ATM Kawser Hossain, chief executive officer of Bandarban Hill District Council (BHDC), said, "We have taken up this dam project following the approval of the Chattogram hill tracts affairs ministry."
Contacted, Sk Mohammad Rezaul Islam, additional secretary (development) of the CHT affairs ministry, said, "I don't know anything about this. I have to know the details."
Chattogram Hill Tracts Affairs Minister Bir Bahadur U Shwe Sing could not be reached after repeated attempts over his phone.