Pay Disparity: Pry teachers threaten to boycott tests, close schools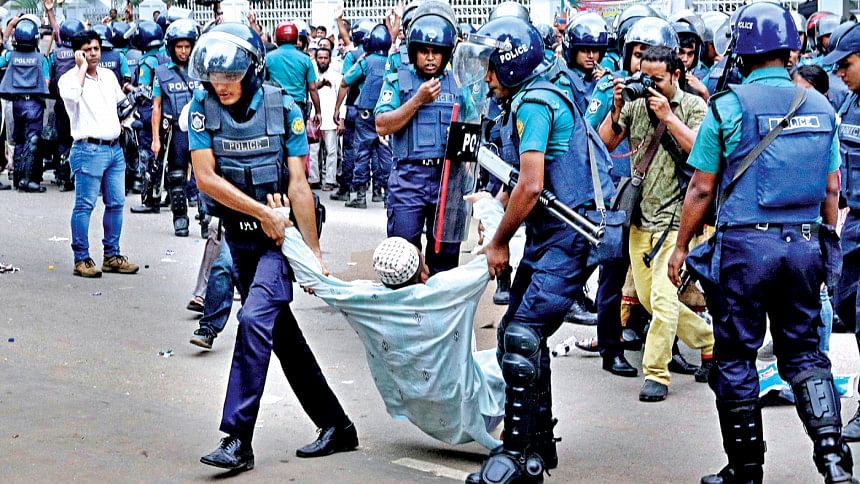 Teachers of government primary schools yesterday issued an ultimatum that they would boycott the upcoming Primary Education Completion Examination (PECE) if their demand for better pay was not met by November 13.
They announced this at a brief rally at Doyel Chattar in Dhaka University area after police thwarted their scheduled rally at the Central Shaheed Minar.
The PECE is to start on November 17.
Several thousand teachers under the banner of Bangladesh Prathomik Shikkhak Oikya Parishad, a platform of 14 teacher associations, started to gather at the Central Shaheed Minar since morning, but police did not allow them to gather for "not having permission".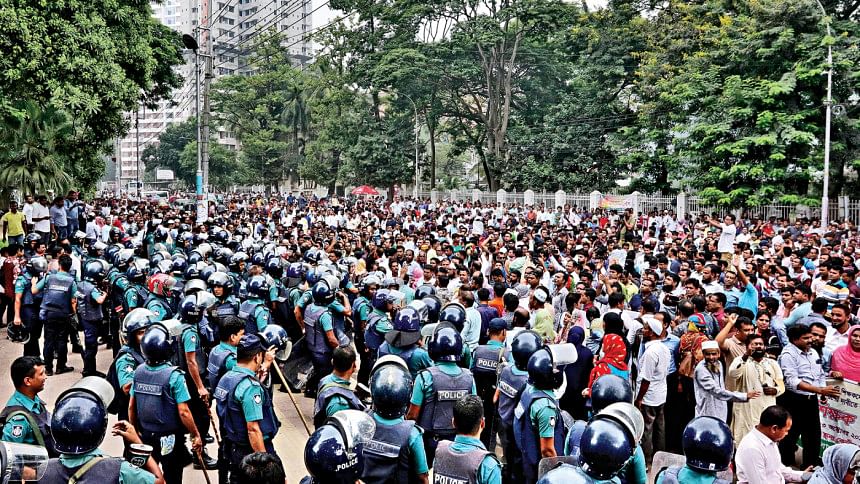 The teachers then wanted to demonstrate on the street. As police started to clear the street, a scuffle broke out. At least five teachers suffered minor injuries during the scuffle, alleged teachers.
Some policemen were seen dragging teachers off the street.
Md Arif, sub-inspector of Shahbagh Police Station, said when they tried to clear the street, the teachers got angry and a scuffle began.
"We did not charge truncheons on the teachers," he said.
The teachers then gathered at Doyel Chattar where they held a brief rally.
At the rally, they demanded salary of headmasters upgraded to the 10th grade and assistant teachers' salary upgraded to the 11th grade.
Currently, trained and untrained headmasters are getting salary under 11th and 12th grades. Trained and untrained assistant teachers are getting 14th and 15th grade salaries.
"We have been holding different programmes for the last five years to press home our demand, but to no avail," said Mohammad Shamsuddin, member secretary of the Oikya Parishad.
"The government must take effective measures immediately to remove the disparity in salaries. Otherwise, we will continue our movement," he added.
At the rally, leaders of the platform demanded the authorities concerned arrange a meeting between their leaders and the prime minister.
Anisur Rahman, convener of the platform, said if the government did not meet their demand, they would lock the schools.
On October 13, the Directorate of Primary Education asked the teachers not to leave stations as their demand for eliminating the pay disparity was under consideration.