Onion prices tumble as imports from India start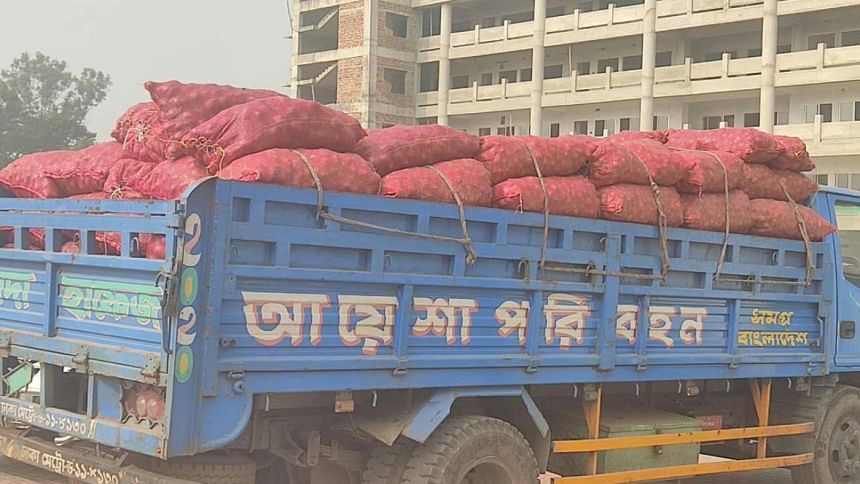 The price of onions has dropped to Tk 10-15 per kilogram as the import of the daily essentials from India started yesterday.
The price of local variety of onions is Tk 35-45 per kg, while that of imported ones is Tk 25 to 35 as of yesterday, according to the data provided by Trading Corporation of Bangladesh.
A week ago, the price of the local variety was Tk 45-60 and imported variety Tk 30-45 per kg.
Yesterday, Indian onion import through the Hili land ports of Dinajpur resumed after 108 days as the Indian government on Monday lifted the export ban of the important ingredient, after it had imposed ban on onion export to Bangladesh on September 14 last year.
A Indian truck carrying 19 tonnes of onions entered Bangladesh through the port in the district's Hakimpur upazila around 3:30 pm, while another loaded truck was waiting at the Indian territory to come in.
Harun Ur Rashid, the president of the Importer and Exporter group of Hili Land port, said that India has fixed the minimum import cost of each tonne of onion to Bangladesh at US $250.
The onion import will begin at full swing from Monday, he added.
With the import, the price of locally produced onions has started dropping in the markets in the district.
During a visit to different markets in Dinajpur, the correspondent found that each kilogram onion was being sold at Tk 35 to 40 in the current season, while onions of the last season were available at Tk 50 per kilogram, depending on quality.
A couple of days earlier, the price was around Tk 65 per kg.
With onion prices soaring in the local market of India, the Directorate General of Foreign Trade under the Indian Ministry of Commerce and Industry and Department of Commerce banned the onion export to Bangladesh on September 14 last year, for domestic shortage for various natural disasters.
After the ban, the price of onions in the local markets started skyrocketing. Each kilogram onions was available at the market at Tk 120 per kg at the end of September last year. However, the price began dropping gradually.
A month ago, it was Tk 85 per kg.
At Sonamasjid land port of Shibganj upazila in Chapainawabganj, onion-laden trucks from India entered yesterday.
Mainul Islam, manager of Sonamasjid-Panama Port Link Limited, said, seven trucks carrying onions entered Bangladesh through the Sonamasjid land port.
He said, around 180 tonnes of onions imported from India entered reached the land port through the Indian Mohodipur land port of Malda in West Bengal.
More trucks, which are stranded at the Mohodipur land port, will enter tomorrow.
(Our correspondents from Dinajpur and Chapainawabganj contributed to the report.)