Mayhem in Sunamganj: 3 more held over attacks on Hindus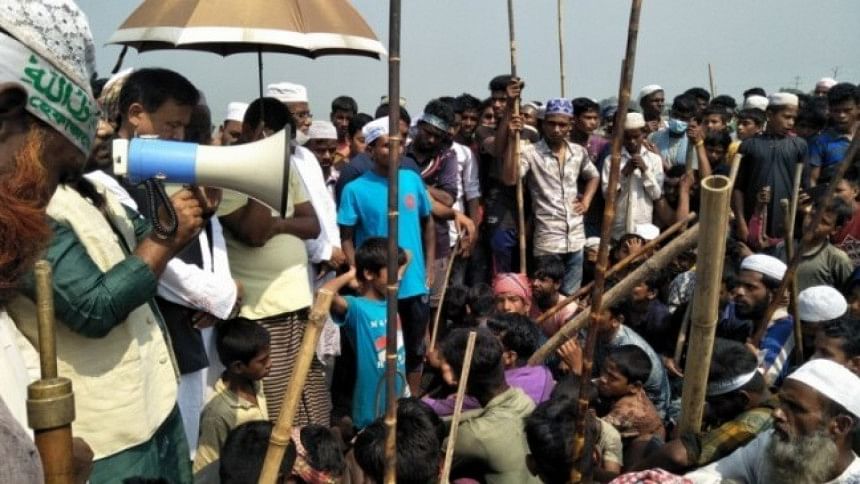 Police have arrested three more people in two cases filed over Wednesday's attack on Hindu houses in Noagaon village of Sunamganj's Shalla upazila.
The arrests were made in different villages of the upazila early yesterday, said Najmul Huq, officer-in-charge of Shalla Police Station.
With them, 33 people have so far been arrested in connection with the incident. All are in jail now, the OC added.
On Saturday, Police Bureau of Investigation held prime accused -- Shahidul Islam Swadhin, member of Sarmangal Union Parishad in Derai upazila.
Shahidul, a resident of Nachni village adjacent to Noagaon, is locally known as a leader of Jubo League, the ruling Awami League's youth front. Jubo League, however, claimed that he was not a leader of the organisation.
There are widespread allegations that Shahidul had a feud with the Hindus of Noagaon village over fishing in a water body (Jolmohal) and he perpetrated the attack by gathering Hefajat supporters over an alleged Facebook post.
Talking to this correspondent yesterday, his relatives Jalfor Ali and Lima Aktar said he is the president of union Jubo League.
However, Khairul Huda Chapol, convener of Sunamganj Jubo League, on Saturday told The Daily Star that Shahidul is neither the president of the local unit nor a leader of Jubo League.
"Since 2007, there have been no Jubo League committees in Derai and Shalla upazilas and Shahidul was not a leader even before," he said.
Meanwhile, police yesterday claimed that Jhumon Das Apon, who allegedly uploaded the Facebook post criticising a Hefajat leader's statement that triggered the mayhem, is an activist of Jatiyatabadi Chhatra Dal, pro-BNP student body.
Jhumon was a former joint general secretary of Shalla upazila unit JCD,   said Mizanur Rahman, superintendent of Sunamganj police.
The SP disclosed the information at a press conference at his office's conference room yesterday, four days into the incident.
He added that charge sheets of the cases would be submitted within the shortest possible time.
Jhumon was arrested under section 54 of the CrPC and later he was sent to court, said the SP.
"Police are investigating the incident considering its all aspects. As the attack was carried out over a Facebook post, police started probing from this angle," he said.
"Those who are involved in the attack will be brought to book. But no innocent people will be harassed," he added.
Contacted, Shalla upazila unit JCD Convener Tarek Hasan admitted that Jhumon was a joint general secretary of the unit.
"The committee formed in 2018 was dissolved within six months. Jhumon remained inactive since then," he added.
On Wednesday morning, several hundred supporters of Hefajat-e Islam attacked, vandalised and looted at least 90 Hindu houses in Noagaon village over the Facebook post.