A man with an unusal hobby
72-year-old Musleh Uddin collects dailies, periodicals from 1956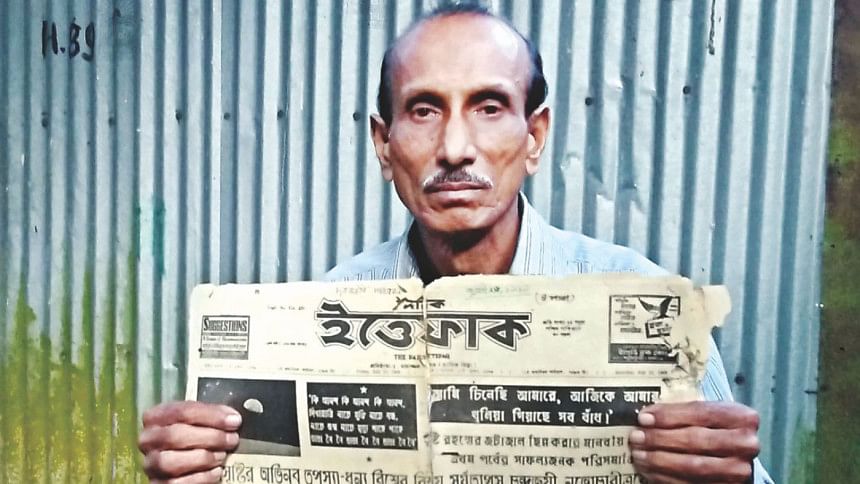 The 72-year-old Musleh Uddin of Mymensingh does not spend a single day without reading newspapers and has a collection of rare publications.
Even though he has challenges in coping with basic financial necessities, he has collected around 2,500 copies of different newspapers and kept those inside his hut in Bakerkanda village of the district's Gauripur upazila.
His collection includes rare editions of the Ittefaq, the Daily Pakistan, The Morning News, the Pakistan Observer, the Awami Jamhooriat, The Telegraph and The Moscow Times.
Some of the newspapers in his collection have coverage of the 1956 speech of Huseyn Shaheed Suhrawardy in Pakistan parliament, Indo-Pak War of 1965, the return of US astronauts to the Earth in 1969, and the historic March 7 speech of Bangabandhu Sheikh Mujibur Rahman in 1971.
His passion for reading different publications and collecting those started in his boyhood, around 1956, and has grown ever since.
Stricken by poverty since childhood, Musleh managed to complete his graduation from Gauripur Government College in 1993. He was born in a local farmer's family.
"After that [completing graduation], I was appointed by different educational institutions at different times but none of them was a permanent job. In some cases, I was not even paid the salary mentioned in my contract," said Musleh, a man who earns his livelihood by teaching part-time at different local schools.
"But I have no complaint against anyone. I have always enjoyed teaching English and reading newspapers," a smiling Musleh told The Daily Star.
During a recent visit to Musleh's one-room house, our correspondent found newspapers piled up on one of his two beds. Some of those were partially eaten by insects. He also had a good collection of Bangla calendars.
Musleh fears his collection, which includes some important historical documents, might be lost if not preserved properly.
"I don't even have a shelf to keep these publications. Sometimes I put them under sunlight to avoid insects," he said.
"I am too old. My days are numbered but I want my collection to be preserved," the man insisted.
Musleh lost strength in his left leg when he suffered typhoid at the age of eight. Since then he has not been able to walk normally. He gets government allowance for disability which is his regular income.
After finishing his everyday works, Musleh walks three kilometres from his home to reach the upazila headquarters and read newspapers.
Musleh says he has a dream to build a library in his village. But with his paltry income, he does not know whether it would ever be a reality.
Informed about Musleh's collection and dreams, Farhana Karim, upazila nirbahi officer of Gauripur, said, "I will see how I can help him. We will try to build him a room to store his collection."