Man held with 12kg explosives
Rab also finds 100 detonators on him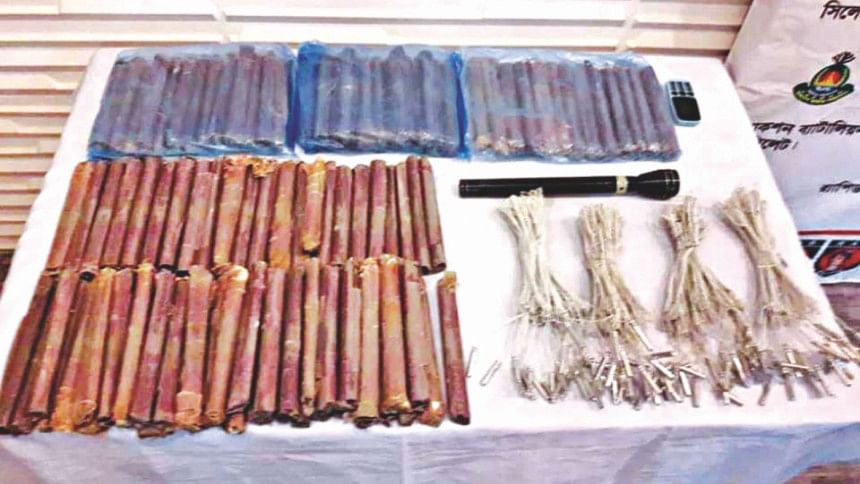 Rapid Action Battalion seized 12.4kg of explosive powergel and 100 electronic detonators and arrested a man at Zakiganj upazila on Saturday night.
Members of the elite force believe the explosives were smuggled in from Meghalaya of India by militants with a sabotage plan ahead of the 11th national election.
The arrestee, Abdul Mannan, 38, was carrying the explosives in 100 small polythene packs.
Commanding Officer of Rab-9 Lt Col Ali Haider Azad Ahmed said powergel in 10 small packs is powerful enough to make a three-storey building collapse.
Rab officials said Mannan, son of Jobed Ali of Barothakuri of Zakiganj, is a professional smuggler. They were quizzing him to know for whom he had smuggled in the explosives and the detonators.
Acting on a tip off that a consignment of explosives would be smuggled in through border, Rab Assistant Superintendent of Police Pijush Chandra Das raided Baburkhal Pool area of Konagram in Zakiganj and arrested Mannan and made the seizure, the Rab CO added.
At a press conference, he also said this kind of explosive is used at mines in Meghalaya. Militants having connection with officials there were smuggling these explosives into Bangladesh, he suspects.
He said Rab had previously recovered similar explosives from militant dens and got information about four to five men linked with the smuggling.
Filing of an explosives case was under way and the arrestee would be handed over to police, he said.
Main Uddin Chowdhury, senior ASP and assistant director of Rab-9, said it was the second largest consignment of explosives seized by them.
On January 7, they arrested three men with around 40kg of similar powergel in 300 small packs and 300 electronic detonators at Kanaighat upazila, he added.