Kanamachhi has to stop
HC says on 'grabbing and freeing' of river land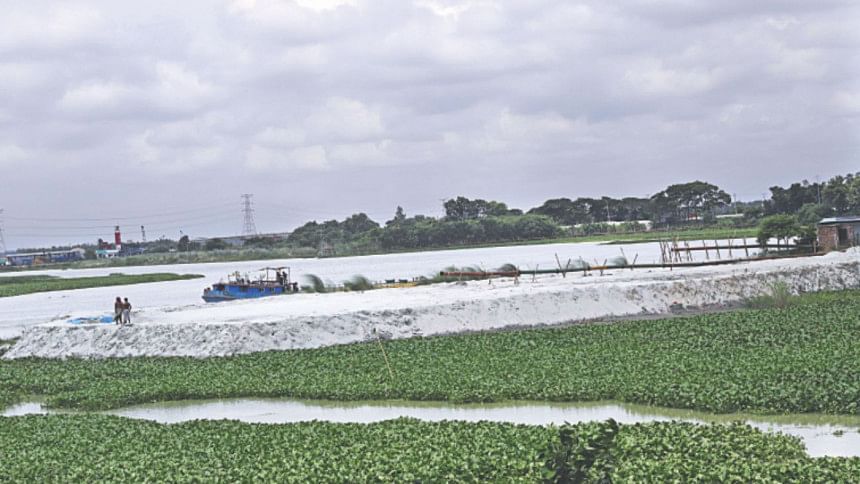 The High Court yesterday observed that playing blind man's buff (kanamachhi) over protection of rivers must stop, as grabbers return to occupy river banks even after their eviction.
Grabbing river land and eviction of land grabbers will go on until the National River Protection Commission (NRPC) can take effective actions to this end, it said.
The court made the observations while delivering the verdict for the second day on a petition that challenged the legality of earth-filling, encroachment and construction of structures along the banks of the Turag.   
The HC said the NRPC and the National Human Rights Commission seemed to be "dummy" commissions as they could not take actions against any perpetrators other than preparing reports and making recommendations about irregularities.
The petitioner's lawyer Manzill Murshid placed the similar argument before the bench of Justice Moyeenul Islam Chowdhury and Justice Md Ashraful Kamal.
In response to his argument, the court said it would give some guidelines on Sunday so that nobody needed to move any case before the court for protecting the rivers and evicting land grabbers.
Manzill said the government formed the NRPC following a landmark HC verdict in 2009, but it had no power to take any effective action against land grabbers.    
Yesterday, the HC thanked journalists for their reporting on various irregularities like river encroachment.
Journalists are like "whistleblowers", and the court can take action against the irregularities following their reports in the media, it added.    
On Wednesday, the HC bench declared that rivers were a "living entity, legal person and juristic person (artificial person) and have the rights to protect their rights".
It said all the 450 rivers of the country would have to be protected to save the human being from damage and pollution.
On November 7, 2016, the Human Rights and Peace for Bangladesh filed the petition after a report headlined "Time to declare Turag dead" was published in The Daily Star the day before.
Two days later, an HC bench directed the government to stop earth-filling, encroachment and construction along the banks of Turag.
It also issued a rule upon the authorities to explain why their inaction in this regard should not be declared illegal.
In line with the court order, chief judicial magistrate of Gazipur submitted a report before the HC in October 2017. The report said 30 structures were set up illegally along the river banks in Gazipur.
On December 13 that year, the HC directed the authorities to demolish the structures immediately.