Jihad's Death: HC acquits 3 railway officials, contractor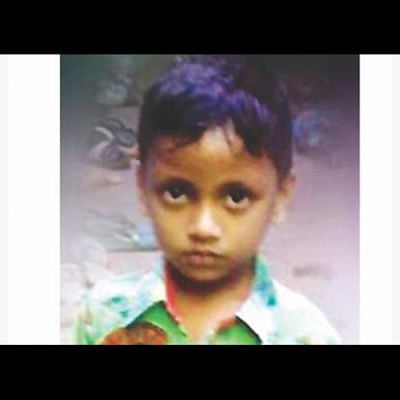 The High Court yesterday acquitted three railway engineers and a contractor accused in a case filed over the death of four-year-old Jihad who died after falling into an unprotected shaft in the capital's Shahjahanpur in 2014.
The four were sentenced to 10 years imprisonment by a lower court.
Jihad fell into the deep shaft while playing with other children at Shahjahanpur Railway Colony in the capital on December 26, 2014.
His body was pulled out by a group of volunteers the following day, shortly after officials said there was no sign of the boy inside the well and called off the rescue bid.
Jihad's father Mohammad Nasir Uddin filed a case with Shahjahanpur Police Station the next day.
On February 26, 2017, a Dhaka court sentenced the four to 10 years rigorous imprisonment in the case. The court found them guilty of "gross-negligence and reluctance in discharging their duties" that had led to the death of the boy.
Bangladesh Railway assistant engineers Zafar Ahmed and Nasir Uddin and Senior Sub-assistant Engineer Jahangir Alam were sentenced by the lower court. Abdus Salam alias Shafiqul Islam, proprietor of SR House, the contractor of a railway project in the area, was also sentenced.
Yesterday, Justice Md Ruhul Quddus and Justice ASM Abdul Mobin acquitted them from the charges after hearing four separate appeals challenging the lower court verdict.
Details of the grounds and observations on which the HC delivered the verdict remains to be seen as the full text of the verdict has not been released yet.
Deputy Attorney General Md Aminul Islam told The Daily Star that the HC bench acquitted the convicts because another HC bench had earlier directed Bangladesh Railway and Bangladesh Fire Service and Civil Defence to pay Tk 20 lakh in compensation to Jihad's parents.
Besides, it is not clear in the job manual and discretion of the accused whether they are responsible to maintain and protect deep abandoned wells, he said.
Aminul also said the government would appeal before the Appellate Division of the Supreme Court against the HC verdict.
Lawyer Abdul Halim, who moved the writ petition before the HC for compensating Jihad's parents, told this correspondent that the HC acquitted the four as the investigation of the lower court case was faulty and the state could not prove the allegation.
Jihad's parents received Tk 20 lakh from Bangladesh Railway and Bangladesh Fire Service and Civil Defence as per the HC directive, he added.