Imran writes to Hasina
Greets her on golden jubilee of Bangladesh's independence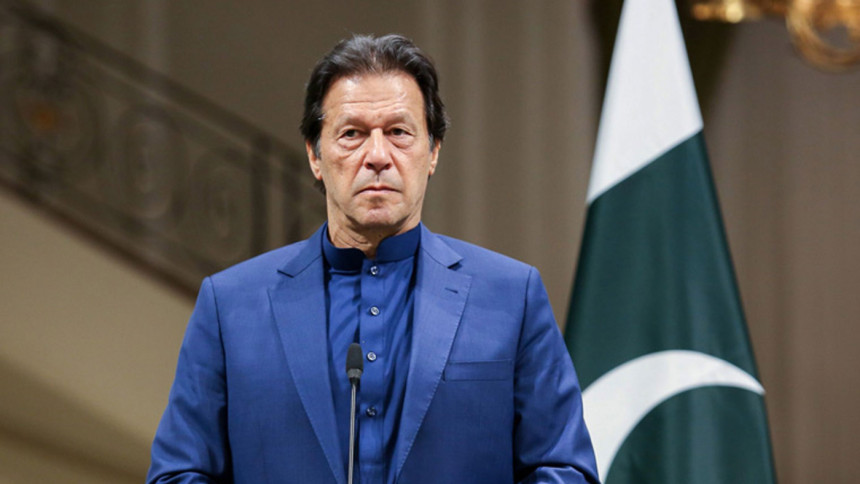 Pakistan Prime Minister Imran Khan has written a letter to his Bangladeshi counterpart Sheikh Hasina, congratulating her on the occasions of the Golden Jubilee of Independence and Mujib Borsho.
"We would like to fortify our existing bonds with brotherly Bangladesh and build new ones for our succeeding generations, as we believe the destinies of our two peoples are intertwined," he said in the letter, copies of which were sent to media offices by the Pakistan High Commission in Dhaka yesterday evening.
Imran, who tested Covid-19 positive last week, in the letter wrote: "On this occasion, let us renew our resolve to jointly work for a better future for our peoples and closer ties between our two countries."
He said, "The centenary events to commemorate late prime minister Sheikh Mujibur Rahman are reflective of the deep affection and esteem in which he is held by yourself and the people of Bangladesh."
A cricketer-turned politician, Imran said Pakistan deeply values its fraternal ties with Bangladesh, which are based on "shared history, common faith, and convergent interests in promoting lasting peace and security as well as sustainable prosperity in the region and beyond".
Imran invited Hasina to visit Pakistan at the earliest convenience, saying he was confident that this would open a new chapter in fraternal relations.
He wished Hasina a long life, health and happiness and prayed for the continued peace, progress and prosperity of Bangladeshis.
On Tuesday, Foreign Minister AK Abdul Momen said PM Hasina wrote a message to Imran, wishing him a quick recovery from Covid-19.
On the occasion of Pakistan Day, Indian Prime Minister Narendra Modi also wrote to Imran, saying India desires "cordial relations" with its neighbour.
According to an Indian media outlet, The Wire, Modi in the letter on March 22 said: "As a neighbouring country, India desires cordial relations with the people of Pakistan. For this, an environment of trust, devoid of terror and hostility, is imperative."