EU threatens to slap sanctions
Asks Myanmar to address widespread human rights violations against Rohingyas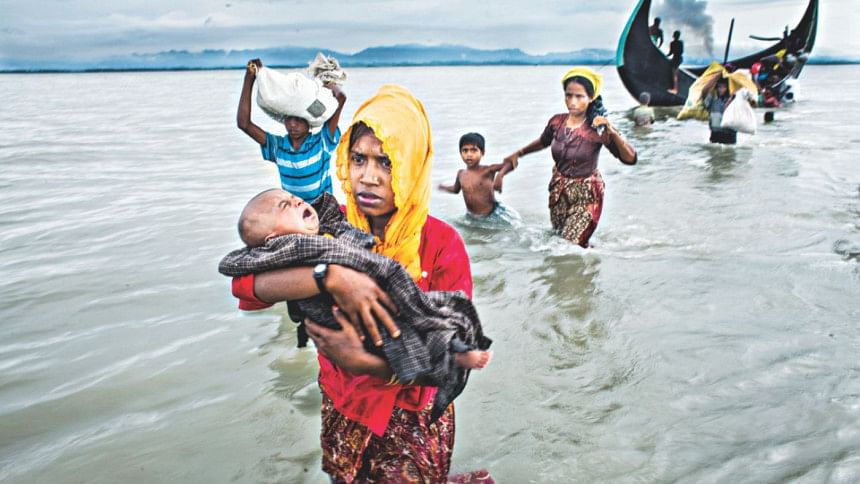 The European Union has threatened to impose trade sanctions on Myanmar if it does not address the widespread human rights violations against the Rohingyas in Rakhine and other minorities in Kachin and Shan states.
"The EU stands ready to provide necessary support to Myanmar to address the concerns of the international community. Nevertheless, withdrawal of trade preferences is a clear possibility if other channels of cooperation have failed to reach results," it said.
The warning comes following a visit by a monitoring mission of experts from the EU and the European External Action Service to Myanmar from October 28-31.
In a statement on Thursday, European Commissioner for Trade Cecilia Malmström said, "Trade, done right, is a powerful force for good. Since several years, we have worked to ensure that trade preferences and access to the EU market are an incentive to promote fundamental human and labour rights.
"We now expect Myanmar to address the severe shortcomings that have been highlighted during this monitoring mission. If they do not act, Myanmar authorities are putting their country's tariff-free access to the EU market in danger."
The Everything But Arms (EBA) scheme has proved to be vital for the economic and social development of the country. The preferential exports from Myanmar to the EU have risen sharply from €535 million in 2015 to €1.3 billion in 2017.
The EU expressed serious concerns about the disproportionate use of Myanmar military and security forces against Rohingyas.
Over 720,000 Rohingyas fled violence in Rakhine since August last year. Last week, UN investigators said genocide against the Rohingyas was "ongoing" and that as many as 400,000 Rohingyas still remaining in Myanmar live under severe restrictions and repression.
Earlier, the US had imposed targeted sanctions against Myanmar military commanders and army units, while Australia slapped sanctions on five generals responsible for human rights violations.
HALT REPATRIATION, URGES HRW, ASEAN MPS
Human Rights Watch has demanded immediate suspension of the proposed repatriation of Rohingya starting from mid-November, arguing it would put the refugees in dire conditions in Myanmar.
"Myanmar's government keeps talking about returns, but it has done nothing to allay the Rohingya's fears of being returned to the same violence and oppression they fled," said HRW Refugee Rights Director Bill Frelick in a statement yesterday.
"If Bangladesh moves forward on repatriations without the UN, it will squander the international goodwill it has accrued over the past year as a host to Rohingya refugees," he said. 
Bangladesh and Myanmar officials, after a meeting in Dhaka on October 31, announced a "very concrete plan" to begin repatriations in mid-November.
The 2,000 Rohingya identified to take part in the initial returns were selected from a list of 8,032 refugees that Bangladesh presented to Myanmar in February.
In June, the UN refugee agency (UNHCR) and UN Development Programme signed a memorandum of understanding with Myanmar to facilitate the returns. They have since begun limited assessments in Rakhine, HRW said. 
Yet Bangladesh and Myanmar officials did not consult with UNHCR or Rohingya refugees if they volunteer to return.
"This repatriation plan is just Myanmar's latest attempt to deflect international criticism from its brutal ethnic cleansing campaign for which no one has been brought to justice," Frelick said, urging donors not to fund this "dangerous plan".
The UNHCR spokesman, Andrej Mahecic, told Voice of America: "Because we consider that conditions in Rakhine state are not yet conducive to voluntary return in the conditions of safety, dignity and sustainability, UNHCR will not, at this stage, facilitate any refugee returns to Rakhine state."
The refugee agency reported this week that it was not involved in preparation, transmission or receipt of the list (of Rohingya returnees) nor in its verification and clearing.
Meanwhile, the Association of Southeast Asian Nations Parliamentarians for Human Rights also urged Bangladesh and Myanmar to halt the repatriation at this stage.
"This is a poorly-thought plan," said Malaysian MP Charles Santiago, head of the body, reports Reuters, adding that Myanmar is not safe enough for the Rohingyas yet.