Enforced Disappearance: 40 families'painful wait lingers on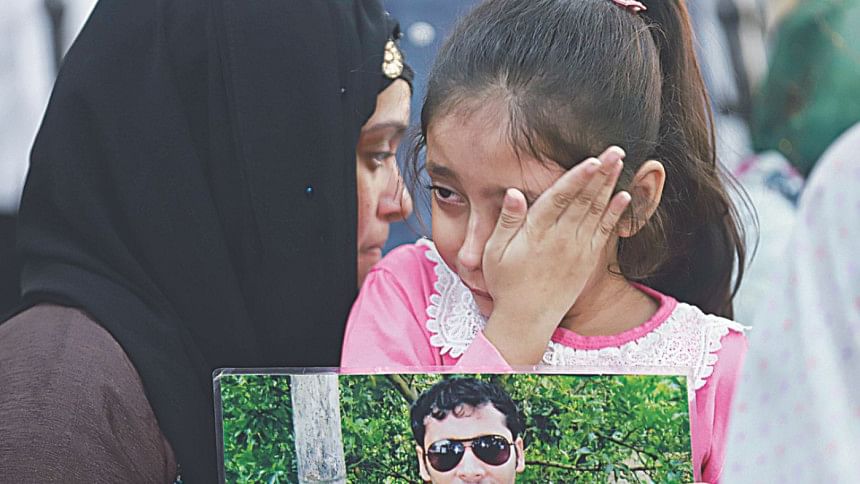 At a crowded room of the capital's Jatiya Press Club yesterday, eight-year old Adiba Islam Hridi cried softly while sitting on her mother's lap.
It was a familiar situation for Hridi as she and her mother Farzana Akhter had been attending different programmes at the press club and in other places over the past few years, demanding the safe return of her father Parvez Hossain. Parvez was allegedly picked up by members of a law enforcement agency in 2013.
"Please give my father back to me. I don't feel good with out him," Hridi said in a barely audible voice, cracked with emotion.
Then a Jatiyatabadi Chhatra Dal leader from Bangshal in the capital, Parvez went missing on December 2, 2013, after some men identifying themselves as detectives picked him up from the capital's Shahbagh area, according to family members who were present at the time.
Hridi was only two at the time while Farzana was pregnant with Hridi's brother, Araf Hossain, who is now four-and-a-half years old.
Fingers gently wrapped around photos of their loved ones, members of some 40 families of enforced disappearance victims gathered at the Jatiya Press Club under the platform "Mayer Daak" ahead of the upcoming Human Rights Day on December 10, seeking government intervention to trace the victims. Most of the victims had been missing since 2013, the family members said.
The victim's families were joined by rights activists, civil society members, university professors and politicians.
They demanded that the government to form a judicial probe body headed by a justice to investigate each incident of enforced disappearance.
They also urged political parties to make specific pledges over enforced disappearances in their election manifestos ahead of the parliamentary polls.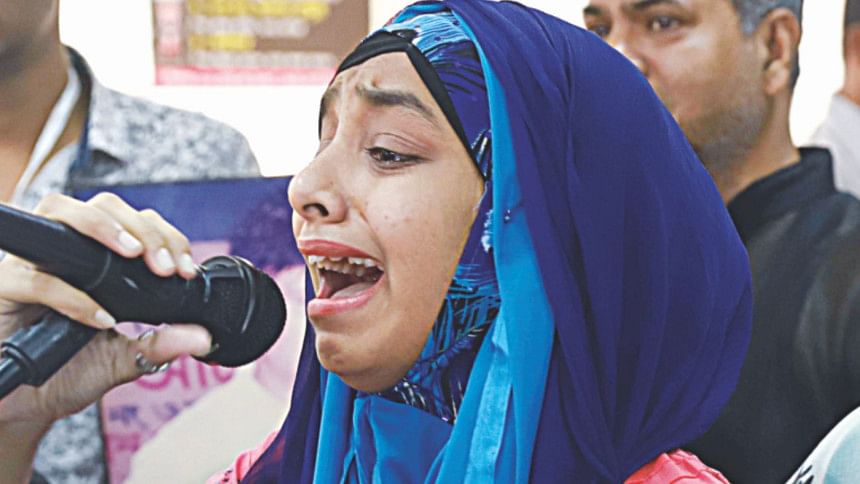 They further called upon the Election Commission to take steps so that their dear ones could return and cast their votes.
Marufa Islam Ferdousi, sister of BNP leader Sajedul Islam Sumon, urged the countrymen to boycott those political parties which would not make pledges over taking action against crimes like enforced disappearance.
Sajedul, the then general secretary of BNP's ward-38 unit in the capital, and seven others were allegedly picked up by the Rab between 8:00pm of December 4 and 2:00pm of December 5 in 2013 from the capital's Bashundhara and Shahinbagh areas.
"Today, our family members have become victims of enforced disappearance. If you remain silent, you will see your family members are included in the list of enforced disappearance too," she said, reading out a statement.
"I have read out such written statements on several occasions in the past. I don't want to read it anymore."
Chairing the programme, Sajedul's mother Hajera Khatun pleaded for her son's to return. "I want my son back."
Sajedul's daughter Afsa Islam said she had been waiting for her father since her exams had finished but her wait was yet to come to an end.
"Take me too, so that I can meet my father," she said.
The home ministry and Rab on a number of occasions have denied involvement of any law enforcers in such incidents.
Addressing the programme, Nagorik Oikya Convener Mahmudur Rahman Manna alleged that "the government is devouring people like a monster".
People need to defeat the ruling party through voting in the upcoming election to establish their rights, he said.
Enforced disappearances could only be stopped by dethroning the ruling party as it was not paying any heed to demands of the victims' families, he added.
Rights activist Noor Khan said several hundred people had become victims of enforced disappearance over the past few years.
Political parties should make pledges to end the crime, said Noor, who has been closely involved with the victim's families and has been vocal about ensuring justice.
Talking to this correspondent, he said the platform "Mayer Daak" had been working to bring all families of the victims of enforced disappearance under one banner.
So far it reached about 170 families across the country, he said.
Zonayed Saki, chief coordinator of the Central Executive Committee of Ganosamhati Andolon, said the government had turned the state into a "monstrous one".
The government should ensure the countrymen's security through making the country a democratic one, he said.
BNP Central Committee member Tabith Awal said it was unacceptable that the countrymen had to observe day for enforced disappearance.