Education and skill development during Covid-19 and beyond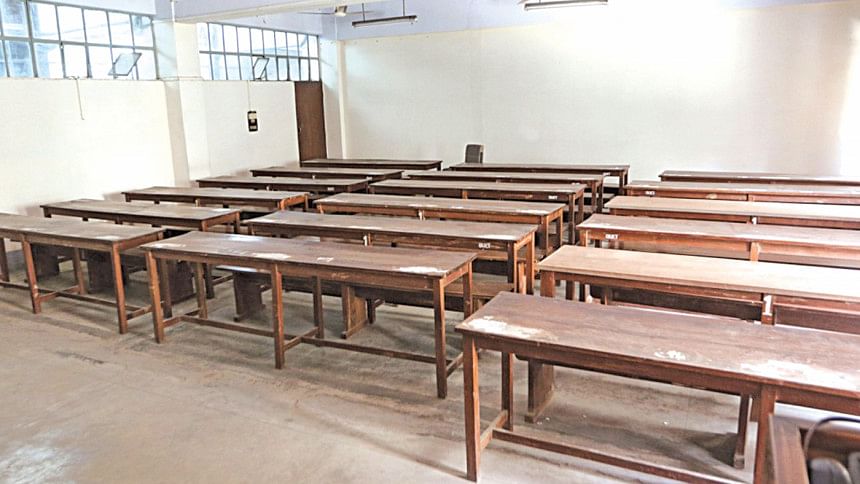 "Being a final year student, I am uncertain about how to prepare my thesis report as it requires a lot of field work. Hence, I am thinking of opting for an internship instead of writing a thesis paper as joining an internship will provide me with skills required to secure a good job in the future. However, I am not sure if any reputed organisation would offer internship opportunities amid the coronavirus pandemic," shares Khandaker Muhtasim Rafi, 24, a private university student.
Millions of young people like Rafi in Bangladesh are worried about continuing their regular educational activities as well as the long-term impact of the pandemic on their future education and career.
The Covid-19 pandemic and lockdown measures in Bangladesh have led to the closure of most of the educational institutions including Technical and Vocational Education and Training (TVET) centres. Some educational institutions have introduced online learning but both teachers and students are having a hard time adapting to it. The worst sufferers are students who do not have access to internet and internet-enabled devices such as computers and smartphones and who do not have proper study space at home.
A global report issued on August 11, 2020 titled 'Youth and COVID-19: Impacts on jobs, education, rights and mental well-being' reveals that  65 percent of young people reported having learned less since the beginning of the pandemic because of the transition from classroom to online and distance learning during the lockdown. The report also points out that 51 percent of young people believe their education will be delayed, and nine percent fear their education would suffer and that they might even fail.
More than five months into the closure of educational institutions in Bangladesh, the government is yet to come up with a concrete plan on how to address the issue of education and skill development during the pandemic and beyond. This indecisiveness is causing millions of students frustration regarding their education and career. 
Education Minister Dipu Moni said on August 28, 2020 that the Ministry of Education was working on figuring out what kind of changes should be made in the education system during the pandemic, and after it is over. She, however, didn't commit herself to any specific deadline as to the outcome.
In a meeting with the senior officials of the Ministry of Education and heads of various departments and agencies under the ministry, the Minister instructed teachers of secondary, higher secondary, madrasa and technical schools to keep students motivated through direct communication in compliance with the hygiene rules or via social media during the pandemic. In the meeting they decided to extend the ongoing cancellation of in-person classes of all educational institutions in the country, except Qawmi madrasas, till October 3, 2020.  They also emphasised on making online educational activities more fruitful at the university level.
Another big concern is that in the post-Covid period, sustaining existing employment and creating jobs will be a big challenge.
Tahsinah Ahmed, Executive Director, UCEP Bangladesh shares that 30 percent of the graduates of the organisation have lost their jobs during the pandemic which clearly indicates that traditional skill and teaching method will not work anymore. The training institutions should come forward and analyse how they can be more competent and adaptable to the changes occurring, she emphasises.
As to the government's initiative to address this disruption in the job market, Anir Chowdhury, Policy Advisor, a2i (Access to Information), informed in a roundtable jointly organised by ActionAid Bangladesh and The Daily Star on July 19, 2020, that the government had identified five sectors through which around 40 lakh jobs can be created. The sectors are agro-food processing supply chain; healthcare; pharmaceuticals; creative media; and ICT, e-commerce, and digital credit.
He further emphasised on the need to create a top-notch brand for vocational education and training. "Otherwise, we won't be able to convince children's parents and the government will also refrain from providing adequate funding," he added.