Covid-19 Fallout: 14,000 migrant workers return empty-handed since April 1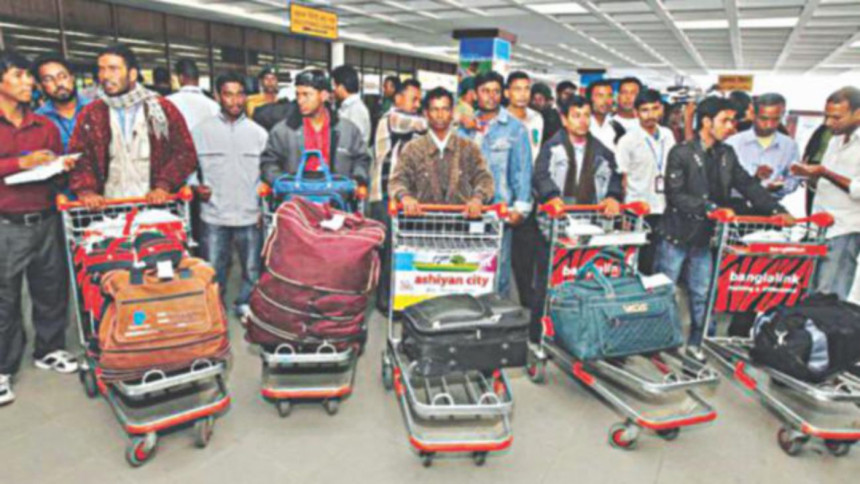 Over 14,000 Bangladeshi migrant workers have returned home since April from 10 countries, showed data of Expatriates' Welfare Desk at Hazrat Shahjalal International Airport.
Fakhrul Alam, assistant director at the welfare desk, said the workers returned for various reasons but mostly for job cuts over coronavirus situations in those countries.
Of them, nearly 4,900 returned from Kuwait, more than 3,500 from Maldives, around 3,000 from Oman and 2,500 to 3,000 from the United Arab Emirates since April 1.
Besides, some 400 to 450 returned from Singapore, 223 from Saudi Arabia, 70 to 80 from Malaysia and 71 from South Africa, he told this newspaper over phone yesterday.
A small number of migrant workers returned from Bahrain and Qatar as of Tuesday, he added.
These workers returned home in specially arranged flights since regular flight operations to and from Dhaka remained suspended until tomorrow on the ground of curbing coronavirus spread.
Those who returned from Maldives were sent back by their employers and companies since almost everything remained closed in the tourism-based island nation, said Fakhrul.
The Maldivian employers, however, assured the Bangladeshi workers that they would be recruited again once the situation turns normal, he added.
Employers of the UAE, especially of Dubai, also gave the workers similar hopes, he added.
On the other hand, half the returnees from Kuwait returned under a general amnesty declared by the Gulf country while "90 percent of those returned from Oman were in prison", he said.
According to the official, during regular flight operations some 5,500 to 7,000 migrant workers returned home each month after taking out-pass facility.
International flight operations to and from Dhaka resumed on a limited scale on Tuesday after nearly three months of suspension.
Flight operations on all international and domestic routes, except for China, remained suspended since March 21 to curb the spread of Covid-19. Flight operations on domestic routes resumed on June 1 on a limited scale.
The expatriates' welfare desk at HSIA aims to look after both departing and arriving migrant workers with providing them necessary support including what required for their immigration.
There are two other similar desks set at international airports in Chattogram and Sylhet.
As per a directive of expatriates' welfare minister Imran Ahmad, returnee migrant workers were provided with Tk 5,000 each by the ministry via welfare desk as transportation cost during the shutdown.