City entries gridlocked
People suffer as police conduct 'security checks' ahead of BNP rally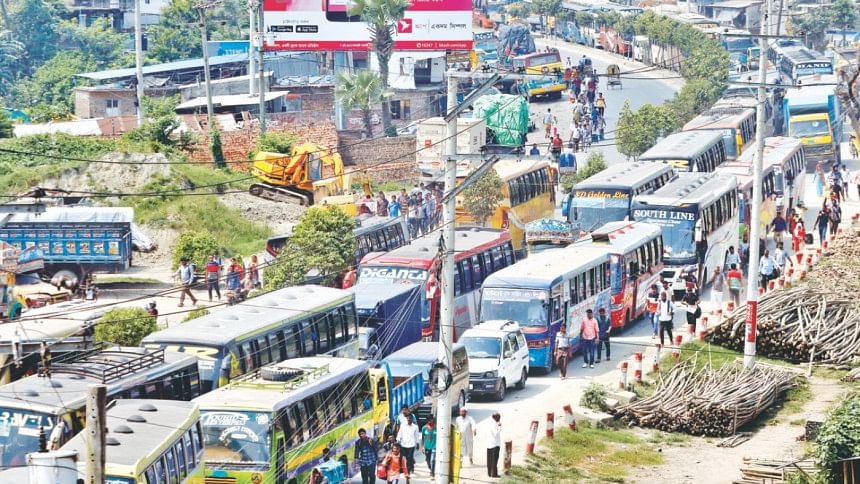 People heading for Dhaka had to endure immense sufferings yesterday as police stopped many buses at entries to the capital in the name of security checks.
The city dwellers also faced a shortage of public transport ahead of BNP's rally at Suhrawardy Udyan in the afternoon.
Many commuters were seen standing at bus stops because of vehicle shortage. However, the number of people on the streets yesterday was fewer compared to other days due to the rally.
A good number of people preferred travelling to Dhaka on trains because of shortage public transport as well as to avoid the hassle on the streets. There were more passengers on Dhaka-bound trains than usual and many were seen on train roofs, says sources at Kamalapur Railway Station. 
"The number of Dhaka-bound buses was small in the morning, but the number started to increase in the afternoon," said a member of Dhaka Zila Bus-Minibus Sarak Paribahan Sramik Union, wishing not to be named.
Some bus owners did not operate their buses from different districts, considering the rally, he said.
Police conducted an extensive search of vehicles entering the capital from different districts at a check point near Parbat Cinema Hall in Gabtoli. It led to a long tailback from Gabtoli to Hemayetpur on the Dhaka-Aricha highway.
Many people were seen walking to their destinations to avoid the unusual congestion.
About the check, Selimuzzaman, officer-in-charge of Darussalam Police Station, said that was a permanent check point and it was their routine work.
Our Savar correspondent adds: Hundreds of passengers were stuck in a gridlock on the Dhaka-Aricha highway due to the checks in Gabtoli.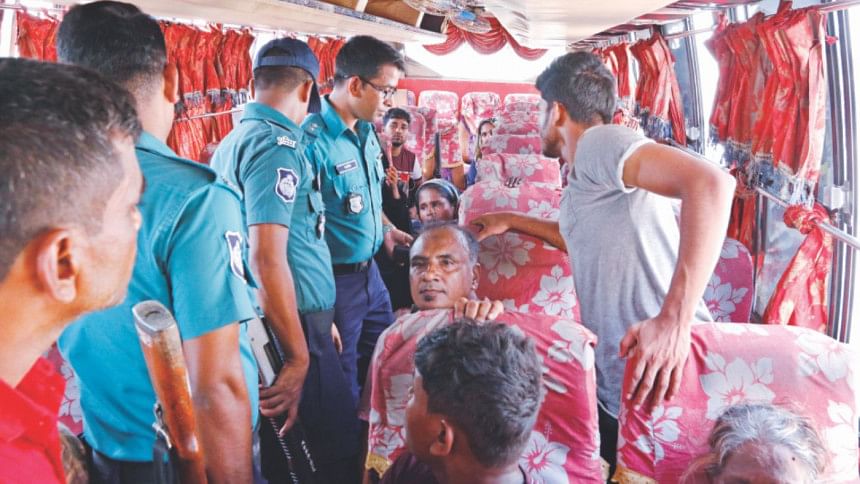 Anisur Rahman said he boarded a bus in Savar around 11:00am and reached the capital's Darussalam area around 2:00pm. It usually took around an hour to reach Darussalam, but it took three hours yesterday due to the tailback.  
Talking to The Daily Star in Amin Bazar area, Md Jewel, who was travelling to Dhaka, said he along with 20 to 25 other passengers got on a Dhaka-bound bus in Nabinagar bus stand area around 10:00am.
After reaching Hemayetpur, the bus driver refused to go to Dhaka, saying that he would not go because of the gridlock.
Later, they took another bus around 1:30pm from Hemayetpur, but the vehicle got stranded in traffic. They left the bus and reached Dhaka after walking for three hours, said Jewel.
In Gazipur, police searched vehicles after setting up check points in Tongi Station Road area of the Dhaka-Mymensingh highway, Vogra Bypass Road, and in Kaliakoir-Chandra area of the Dhaka-Tangail highway, reports our correspondent there.
Police even checked mobile phones and personal documents of BNP leaders and activists after stopping their vehicles. They forced them to turn back when they came to know that the BNP men were going to the rally, some local BNP leaders alleged.
Dismissing the allegation, Abul Kalam Azad, assistant superintendent of police of Gazipur traffic division, they conducted the search "for security purpose" and it was their routine work.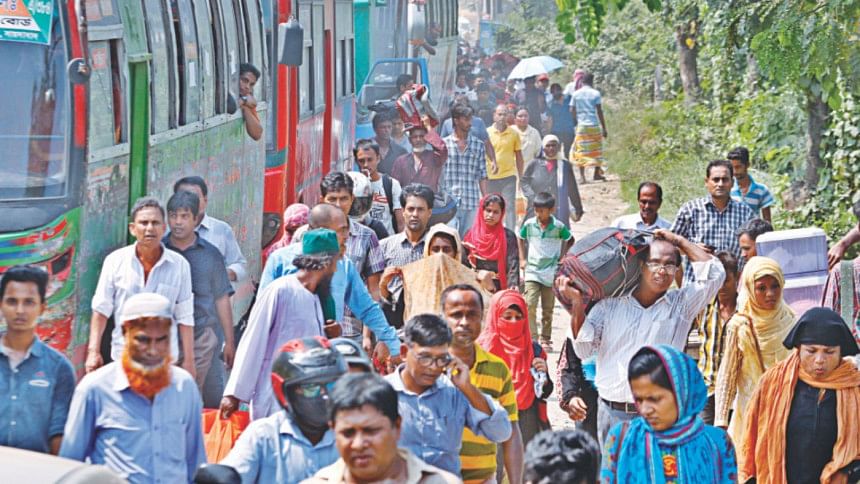 Mofazzal Hossain Dulal, joint convener of Dinajpur district BNP, said he got on a bus from Dinajpur's Kalitola area around 11:00pm on Saturday for Dhaka. The bus was checked before reaching the Bangabandhu bridge, he alleged.
Later, police stopped the bus again at Amin Bazar early in the morning, reports our Dinajpur correspondent, quoting the BNP leader.
"After walking around 4km, I got a rickshaw for going to my destination," he said while talking to this correspondent over the phone.
Azaharul Islam Arzu, convener of Dhaleswari Nodi Banchao Andolon, a social movement to save the river, said they hired a bus to go to the National Museum to attend a seminar on World Rivers Day scheduled to be held at 10:00am, but failed, reports our Manikganj correspondent.
They got on the bus around 8:00am and arrived in Hemayetpur around 8:45am. After being stranded for five hours, they returned home from Boliarpur near Amin Bazar, he added.