Buses to run at full capacity from Sept 1
Fares will be pre-Covid-19 too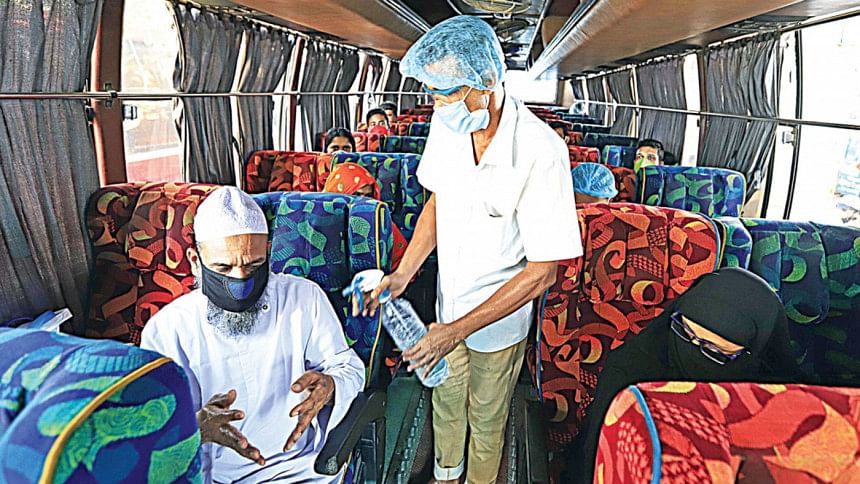 The government is going to reinstate the previous bus fare from September 1 and will carry passengers with full capacity, Road Transport and Bridges Minister Obaidul Quader said yesterday.
"The decision has been taken to reinstate previous fares of public transport from September 1 considering the overall situation and public interest. Stakeholders, however, have to follow some conditions," the minister said.
His ministry will give the necessary directives in this regard, Quader said while talking to the officials of Roads and Highways Department (RHD), Bangladesh Road Transport Authority and Bangladesh Road Transport Corporation (BRTC) through a video conference from his official residence.
"No transport would be allowed to carry passengers beyond its seating capacity. 'As many passengers as there are seats' policy would be implemented. No standing passengers would be allowed," he said.
All passengers, drivers, bus staffers have to wear masks and the transport must have hand sanitizer and other hand washing essentials, he said adding that buses have to be disinfected before and after each trip.
Besides, he also given necessary directives to BRTA, Highway Police, district and police administration to take action against those who violate the directives.
The government is going to normalise bus service at a time when the number of new infections and deaths from Covid-19 are still on the rise and health experts said allowing full-scale movement of public transports would definitely increase the transmission of the coronavirus.
Besides, the organisations working for road safety and passengers' welfare are also sceptical about whether the bus operators, against whom allegations of extra-charging are very rampant, would take the actual previous fare and whether health safety guidelines would be maintained.
Public transport services, including buses and minibuses, resumed on June 1 after more than two months. The government suspended the services on March 26 to contain the spread of the coronavirus.
Following demands made by transport leaders, the government hiked bus fares by 60 percent from June 1 on the condition that buses would carry passengers at half capacity and follow health safety guidelines.
But complaints on the breach of the aforementioned conditions kept pouring in.
Against this backdrop, bus owners on August 16 wrote to the ministry and BRTA to allow them to operate their vehicles at full capacity at the previous fares, claiming that the coronavirus situation is gradually getting back to normal.
The owners reiterated the same demands at the stakeholders' meeting convened by BRTA on August 19.
On the following day, BRTA wrote to the road transport and bridges ministry to take necessary steps in this regard.