Boisabi limited to indoors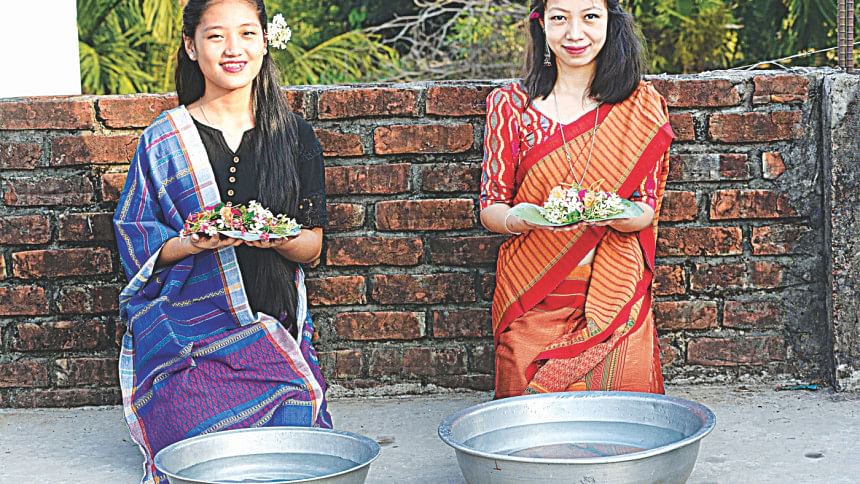 The indigenous communities of the hill tracts will not celebrate their new year amid the coronavirus fears.
There will be no outdoor celebration during "Boisabi", which precedes the Bangla new year by two days.
People who live in poverty usually earn something during the celebrations by selling different goods, but they will have nothing this year, community leaders said.
Mohon Dewan, a resident of Rangamati's Rangapani area, said he had some money set aside for the celebrations. But since there will be no festivities, he has given the money to some of his poor neighbours so that they do not have to go hungry on the new year's eve.
The word Boisabi is an acronym of the words for the festival in languages of the different communities: Boishu of Tripuras, Sangrai of Marmas, Sankran of Mros, Sangran of Kyangs, Sankrai of Khumis, Bizu of Chakmas and Bishu of Tanchangyas.
This year, people are not busy shopping for their traditional clothes and food; nobody is inviting family members and friends and many people are facing food shortages.
"We are not celebrating Sankran following the govt order. Most of the villagers are starving," said Lang Ring Mro, a school teacher in Alikadom upazila of Bandarban.
Rama Rani Roy, additional secretary at Chittagong Hill Tracts Affairs Ministry, said in the last two days, a ritual of showering each other with water was held in the hills.
In the ritual called Maitree Pani Barshan, indigenous women and men sprinkle each other with water that symbolises cleansing themselves of the weariness of the past year.
Sanjay Chakma, 55, a resident of Kalindipur area of Rangamati town, said he never witnessed such a situation in his lifetime. "Due to the coronavirus, my daughters are celebrating Fulbiju [making flower offerings] on our roof."
Pratyasha Chakma, 22, a university student, said she and her friends had plans to hang out at Kaptai Lake. "But now I will celebrate in the backyard of our home."
The first day of the celebration starts with Fulbiju. The Chakma people wake up early, clean their homes and decorate it with flowers, and make flower offerings in rivers, canals and springs to seek divine blessings for peace and prosperity.