Beef prices continue to soar
Sold at up to Tk 600 in city; DSCC sets it at Tk 525 for Ramadan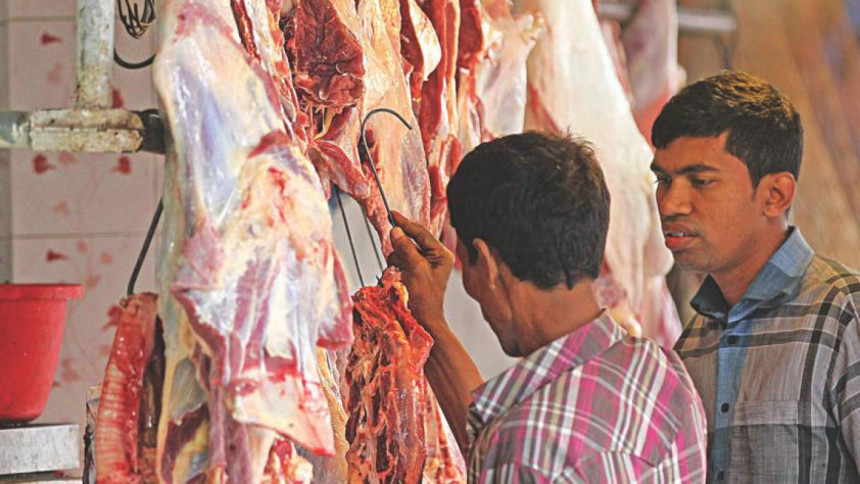 For the last couple of months, butchers have been increasing beef prices, claiming extortion on highways and poor supply of cattle.
"The price of fish has already gone up. Now, they [butchers] have increased the beef price. What will we eat?" asked schoolteacher Md Solaiman at Karwan Bazar.
Yesterday, beef was selling between Tk 580 and Tk 600 a kg in the capital, while mutton was between Tk 800 and Tk 850.
Prices of beef and mutton were stable at Tk 450 and Tk 750 a kg until December last year. From January, butchers increased the beef price by Tk 30 a kg. Between February and March, the price shot up to Tk 520 a kg.
In April, they raised the price further to Tk 550 a kg.
Asgar Ali, a butcher at Kaptan Bazar, said, "Demand for beef have increased in the last two to three days, but there is poor supply of cattle."
The butcher said he sold beef and buffalo meat for Tk 600 a kg yesterday.
Mutton was Tk 850 to Tk 900 a kg at Kaptan Bazar.
At Karwan Bazar in the evening, this correspondent found no beef available. Butchers sold a kg of beef and buffalo meat for Tk 550 and mutton for Tk 750 in the morning and afternoon.
Yesterday, Dhaka South City Corporation (DSCC) fixed per kg of beef and buffalo meat prices at Tk 525 and Tk 480 for the month of Ramadan. The prices are Tk 75 and Tk 60 higher than that of last year.
The DSCC authorities fixed the mutton (goat) price at Tk 750 and mutton (lamb) at Tk 650 a kg, which were Tk 720 and Tk 600 last year.
DSCC Mayor Mohammad Sayeed Khokon said this after a meeting with the butchers at the Nagar Bhaban yesterday.
He added that the rate would be effective until 27th Ramadan.
The butchers, however, said they would not be able to follow the rate until or unless the supply of cattle is increased.
Abul Kalam Hawladar, a butcher at Karwan Bazar, said he sold meat of four cattle yesterday. "I sold a kilogramme of beef for Tk 550. Even after that, I incurred losses of about Tk 14,000," he claimed.
Cattle prices went up due to supply short fall, he said.
"We've long been demanding that extortion be prevented. Had the government checked extortion, we would have been able to reduce the price instead of increasing it," said Robiul Alam, secretary general of Bangladesh Meat Merchants' Association.
Robiul alleged that the lessee of Gabtoli cattle market collected extra from the butchers, which was one of the major reasons behind the price hike.
Lutfor Rahman, lessee of Gabtoli cattle market, said the allegation was baseless. "No extra is collected from the butchers."
He added that for the last three to four months, there was poor supply of cattle in the market.