Another worry for Bangladesh
Countries dealing with Covid-19 ask Bangladesh to take back its undocumented workers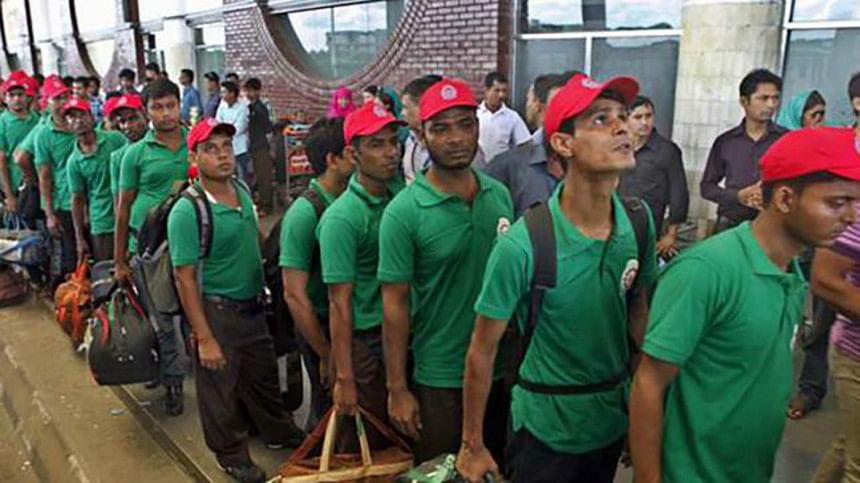 On top of the coronavirus crisis and the feared economic aftershock, Bangladesh is now facing pressure from different countries to take back undocumented Bangladeshis working there.
Kuwait and the Maldives have formally informed Bangladesh about the matter while Saudi Arabia, United Arab Emirates, Qatar, and Bahrain had initiated talks on sending back undocumented migrants, officials said.
There could be about 75,000 undocumented Bangladeshis in Kuwait and the Maldives, they added.
"At this moment, there is pressure, but we have to take care of our citizens. At the same time, we will make diplomatic efforts to handle the issue and see how our people can have the best deal," Expatriates' Welfare and Overseas Employment Minister Imran Ahmad told The Daily Star on Tuesday.
He said ministers and officials at home, foreign, and expatriates' welfare ministries would hold a meeting at the foreign ministry today to discuss how to go about with this.
The meeting would be a follow-up to a similar meeting held on April 5.
According to an expatriates' welfare ministry official, Kuwait asked several countries, including the Philippines, India, Sri Lanka, Egypt and Bangladesh, to take back the undocumented migrant workers.
"The Philippines already started repatriation of its undocumented nationals in Kuwait. Egypt agreed to do so. India, Sri Lanka and Bangladesh had observed that it would be better if the repatriation was done after the coronavirus pandemic was over," he said.
Kuwait, however, warned that the countries that don't take back their undocumented workers now, might not get priority when Kuwait starts fresh recruitment later, the official said preferring anonymity.
Later, it was finalised, by Kuwait and Bangladesh, that 125 Bangladeshis, in deportation centres and waiting to return, and 190 others in prison for committing various crimes, would be deported between April 16 and 20, the official said.
"Of the undocumented migrants, those who want to return voluntarily can come home," the official said.
According to the official, some 25,000 of the around two lakh Bangladeshis in Kuwait could be undocumented.
"I don't think many of them would want to return to Bangladesh now. Those who have been in Kuwait for many years may return," the official added.
Bahrain is asking Bangladesh to take back 300 Bangladeshis whose sentences have been commuted and 100 others who are waiting for deportation.
Sheikh Mohammed Tauhidul Islam, labour counsellor at Bangladesh embassy in Manama, said they were under pressure to send the 400 Bangladeshis home.
Qatar is also making a similar move, officials said.
Meanwhile, the Maldives, which is home to around one lakh Bangladeshis, wants Bangladesh to take back its undocumented workers.
According to officials concerned, about 50,000 Bangladeshis there are undocumented.
Foreign Minister AK Abdul Momen said The Maldives Foreign Minister Abdulla Shahid recently called him to say that his country's economy was seriously affected. There were hardly any tourists in the country so heavily dependent on tourism.
"Therefore, both documented and undocumented migrants are jobless. They can help the documented migrants, but not the undocumented ones," Momen told reporters on April 5.
"We may have to bring back some undocumented migrants," he added.
Officials concerned said Saudi Arabia and the UAE were also raising the issues of undocumented migrants, but have not said anything concrete yet.
These two countries are home to about 25 lakh Bangladeshis. A few lakh of them are thought to be undocumented.
"Not many countries have requested us to bring back undocumented migrants. But you know the number of our people working abroad is huge," Momen said.
"We are under pressure … to some extent. In fact, all countries are under pressure. We are in a difficult time," the foreign minister said.
However, Momen said Bangladesh has good relationship with all these labour-receiving countries and that the government was interacting with them and explain how all countries were facing problems due to the Covid-19 pandemic.
"We already wrote to different countries thanking them for assisting our people. We said we are also facing health and financial problems due to Covid-19 and requested them to help our people on humanitarian grounds. We, together, will surely overcome this," he said.
Like many other countries in the world, Bangladesh too has put forward a stimulus package to deal with the financial fallout of Covid-19.
Prime Minister Sheikh Hasina on Sunday announced a stimulus package of Tk 72,750 crore to overcome the possible economic shock from the ongoing shutdown.
Sumitha Shaanthinni Kishna, chairperson of Migrants Forum Asia, a regional alliance of migrant rights bodies, said any return of migrants must be voluntary.
"Migrants have the right to stay on and work. The countries hosting migrants must ensure that the migrants -- regardless of their legal status -- have free access to screening of Covid-19 and treatment if infected," she told The Daily Star over phone from Malaysia.
Migrants also should be given incentives the way the host countries are providing that to their own citizens, said Sumitha, adding, "Migrants heavily contribute to the host countries' economies. Now these countries should give back to the migrants."