Nine int'l rights bodies urge govt to repeal DSA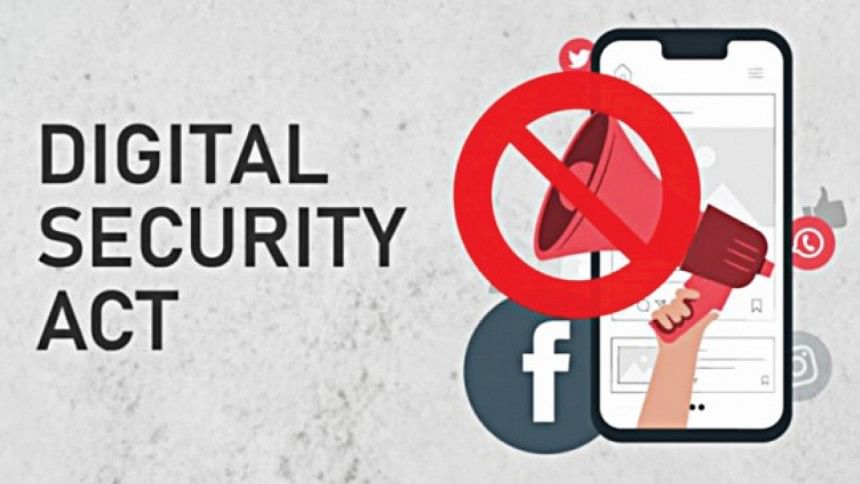 Nine rights organisations on Friday urged the Bangladesh government to respect and protect people's rights to freedom of expression and to end what they said was an escalating crackdown on human rights.
They also urged stopping the crackdown on peaceful assembly to curb protesters demanding justice for writer Mushtaq Ahmed's death in custody.
The organisations are: The Asian Federation Against Involuntary Disappearances (AFAD), Asian Forum for Human Rights and Development (FORUM-ASIA), Asian Human Rights Commission (AHRC), Asian Network for Free Election (ANFREL), CIVICUS: World Alliance for Citizen Participation, Eleos Justice - Monash University, FIDH: International Federation for Human Rights, OMCT: World Organisation Against Torture and Robert F Kennedy Human Rights.
In a joint statement on Friday, the organisations also urged the  government to repeal the Digital Security Act (DSA) - under which both writer Mushtaq Ahmed and cartoonist Ahmed Kabir Kishore were charged.
"All digital and cybersecurity laws must conform to international human rights law, including the International Covenant on Civil and Political Rights," it said.
Mushtaq and Kishore are among hundreds of victims whom the Bangladeshi authorities have held in detention under the DSA, it added.
"These vaguely defined provisions of the law are incompatible with international human rights law and are being used to criminalize freedom of expression."
It added that Mushtaq, 53, and Kishore, 45, a prominent cartoonist, were held in pretrial arbitrary detention under the draconian Digital Security Act of 2018, following their arrests in May 2020 for Facebook posts and social media communications that were deemed critical of the government.
There are strong reasons to believe that Kishore has been tortured while in custody of the Rab, which has been accused of serious human rights violations in the past.
In light of these developments, the organisations call on Bangladeshi authorities to conduct prompt, thorough, impartial, and transparent investigations into the death in prison of writer Mushtaq Ahmed and the allegations of torture against cartoonist Ahmed Kabir Kishore. Perpetrators must be identified and brought to justice, the organisations said.
Authorities must also unconditionally and permanently release Kishore, and end the practice of arbitrary, pre-trial detention of people solely for the peaceful exercise of their right to freedom of expression, they said.
They also expressed concerns over reports of police violence on peaceful protestors, including activists of opposition political parties, who took to the streets to demand justice for Mushtaq's death in custody.
They said individual states should urge the Bangladeshi authorities to address the allegations of grave human rights violations being committed in Bangladesh.
The international community should impose targeted sanctions on those responsible for grave human rights violations in Bangladesh, it said. Given the concerning record of human rights abuses committed by Bangladesh's security forces and law-enforcement agencies, the UN should review their participation in UN Peacekeeping Operations, the joint statement added.
PROTEST CONTINUES
Jatiya Swechchhasebak Dal yesterday held a rally protesting the death of writer Mushtaq in custody, and the killing of journalist Borhan Uddin Mujakkir.
Around 200 leaders and activists, including BNP National Standing Committee Member Mirza Abbas, joined the rally in front of Jatiya Press Club around 10:30am.
They demanded proper investigation and the highest punishment of those involved with the deaths.
They also called upon the government to scrap the DSA.
At another rally organised by the National Democratic Party in front of the Press Club, Gonoshasthaya Kendra founder Zafrullah Chowdhury urged the prime minister to repeal the act.