5 killed in Ctg, B'baria clashes
Over 100 hurt as Hefajat, cops, ruling party men clash in Dhaka; BGB deployed across the country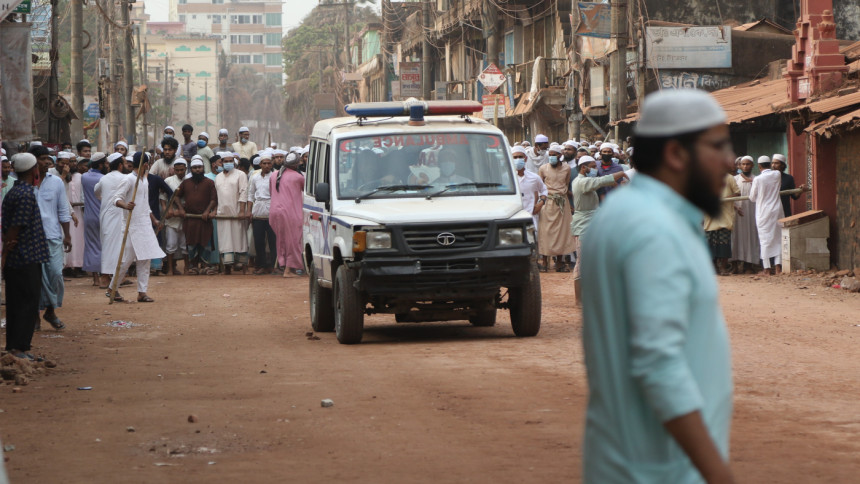 Four people were killed in Chattogram and one in Brahmanbaria in clashes between supporters of Hefajat-e-Islam and policemen after Juma prayers yesterday.
Around the same time, another clash broke out in the capital's Baitul Mukarram National Mosque area between Hefajat activists and Chhatra League men. Police fired tear gas canisters and rubber bullets to disperse the groups.
The incidents in the three districts left at least 100 people, including two photojournalists and a reporter of The Daily Star, injured.
Later at night, members of Border Guard Bangladesh were deployed across the country, including the capital, to avert any untoward situation. This was confirmed by Lt Col Faizur Rahman, director (operations) of BGB.
Hefajat men also blocked rail lines in Brahmanbaria, snapping communication for hours between the district and Chattogram, Sylhet and Noakhali.
In another development, the Islamist organisation announced that it would enforce a dawn-to-dusk nationwide hartal tomorrow, protesting the killings and attacks on its men by members of law enforcement agencies and ruling party.
The clashes broke out after Hefajat men brought out processions in Chattogram, Dhaka, and Brahmanbaria after Juma prayers, protesting the ongoing visit of Indian Prime Minister Narendra Modi.
Police sources in Chattogram said Hefajat activists brought out a procession from the Hathazari madrasa. When the procession was passing near the Hathazari Police Station, the demonstrators started throwing brick chunks at it.
At one point, the demonstrators entered the police station and resorted to vandalism inside the compound, prompting the law enforcers to open fire.
Ruhul Amin, upazila nirbahi officer of Hathazari, told The Daily Star, that vehicles, a bungalow, and land office of the upazila administration were also set ablaze and land-related documents were torched.
Local Hefajat leaders, however, claimed that police opened fire on their activists without any provocation, leaving four dead and dozens of others injured.
Azizul Haque Islamabadi, a local Hefajat leader, said they had brought a "peaceful" procession opposing Modi's visit.
He demanded that those involved in the incident be brought to book. Otherwise, they will wage a tougher movement, he said.
Hafej Mostakim Billah, a student of the madrasa, claimed that he along with some others went to have tea at a tea stall in front of the police station. "All of sudden, we saw police firing bullets at us without any reason," he said.
The Daily Star contacted several police high-ups in Chattogram, but no comment was available.
The deceased in Chattogram were identified as Kazi Mirazul Islam, 40, Robiul Islam, 27, Wahidul Islam, 15, and Jamil.
Talking to The Daily Star, Jahirul Islam, in-charge of Chattogram Medical College Hospital police outpost, said the four were brought dead to the CMCH.
Wishing not to be named, a doctor on duty at the hospital's emergency department said all four bodies had marks of bullet wounds.
Besides, at least seven people received treatment at the hospital, according to its logs.
DHAKA
The clash in Dhaka ensued when Hefajat men brought out an anti-Modi demonstration from the north gate of the national mosque just after the prayers.
Leaders and activists of Bangladesh Chhatra League (BCL) along with other ruling party men, who had taken position in nearby areas, threw brick chunks at the protesters and tried to push them back inside the mosque, witnesses said.
Protesters, however, regrouped and attacked the ruling party men, leading to the clash.
Police tried to bring the situation under control by firing tear gas canisters and rubber bullets.
It continued for around two hours, said witnesses.
The tension eased after 5:00pm when the ruling party men left the area. Hefajat men left too.
The Daily Star correspondents saw seven burnt motorbikes near the north and south gates of the national mosque. City corporation employees were seen cleaning up the street.
More than 50 people were injured in the clash, according to witnesses and journalists.
Two photojournalists of The Daily Star -- Amran Hossain and Prabir Das -- were seriously injured while performing their job. They took treatment at Dhaka Medical College Hospital.
Doctors said Prabir's right shoulder was dislocated and that there was a fracture. Amran needed three stitches on his head.
A journalist of Ekattor TV and Joyeeta Roy, a photojournalist of Bangladesh Pratidin, were also among the injured.
Contacted, Syed Nurul Islam, deputy commissioner of police (Motijheel division), said some mosque-goers started behaving "suspiciously" after the prayers and some "devotees" protested it.
He did not elaborate what he meant.
"When the police tried to go inside the mosque to stop the clash, they started throwing brick chunks, leaving police and other devotees injured," he said.
He said police fired rubber bullets and tear gas to take control of the situation.
He also said, "Many protesters are using innocent mosque-goers as shields. We tried to calm the situation applying different tactics. We did not use excessive force because we want to protect the dignity of the mosque."
Later at night, madrasa students blocked the Dhaka-Chattogram highway in the capital's Jatrabari area near the Hanif flyover, halting traffic on the highway and adjacent Dhaka-Sylhet highway.
As law enforcers moved to clear the road around 8:00pm, a chase and counter chase took place between the students and police and Rab members.
Mazharul Islam, officer-in-charge of Jatrabari Police Station, said eight to 10 policemen were injured in the incident. He also said police fired tear gas canisters and rubber bullets to bring the situation under their control.
BRAHMANBARIA
In Brahmanbaria, Hefajat men vandalised property in and around the local railway station after bringing out a procession following Juma prayers.
They also damaged a mural of Bangabandhu in the Old Kachari area.
As Masuk Hridoy, district correspondent of The Daily Star, was covering the protest, Hefajat men beat him up indiscriminately.
Sohrab Hossain, a duty officer at Brahmanbaria Police Station, said one Ashik, 20, was killed in a clash in the town.
Quoting police, the reporter said students of several Qwami madrasas in the district vandalised important government establishments.
The protesters also attacked BGB members in front of the deputy commissioner's residence. Police fired tear gas and rubber bullets.
At least 15 others were reportedly injured, said police sources.
HEFAJAT HARTAL
Apart from announcing hartal for tomorrow, Hefajat also announced that it will organise countrywide protest programmes today.
Central nayeb-e-amir of Hefajat Abdur Rob Yusufi and Hefajat Joint Secretary General Mamunul Haque made the announcement at a press conference at the office of Khelafat Majlish in the capital's Paltan area.
At the programme, Hefajat leaders demanded that those responsible for the killing of its men are held accountable and brought to book.
They also demanded that the government ensure proper treatment of the injured and provide them with compensation.
Hefajat Joint Secretary General Fazlul Karim Kasemi claimed that four Hefajat men were killed and several hundred others were injured in Chattogram while around 250 to 300 Hefajat men were injured in Dhaka yesterday.