Nasirnagar Mayhem: Rasraj Das gets bail, finally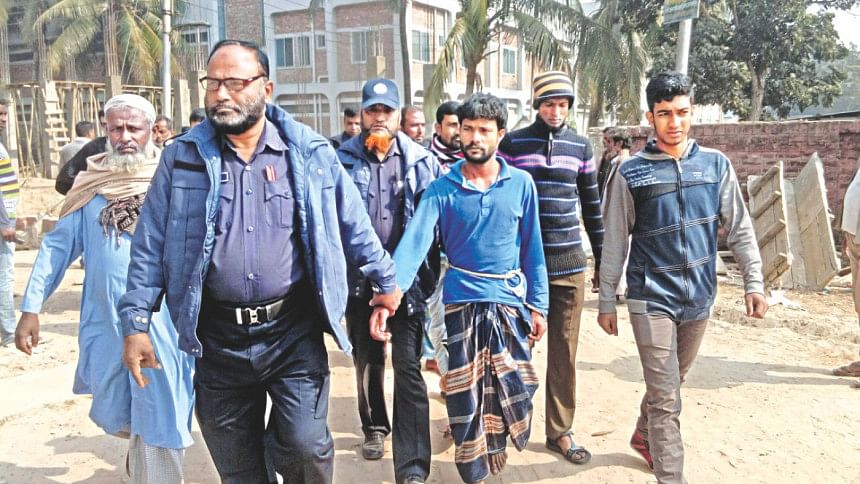 Rasraj Das, who was arrested in connection with an attack on the Hindus in Brahmanbaria's Nasirnagar upazila last year, was finally given bail yesterday.
Judge Md Ismail Hossain of Brahmanbaria District and Sessions Judge's Court granted him bail more than two months after the bail petition was filed.
Referring to a forensic report, Rasraj's lawyer Nasir Mia said there was no evidence that he had posted any photograph on Facebook that hurt religious sentiments.
He added the court granted him bail till submission of a police report in this connection.
Earlier on October 30, around 200 religious bigots attacked at least five temples and vandalised and looted about 100 Hindu houses in several localities in Nasirnagar.
Jahangir Alam, owner of Al-Amin Cyber Point and Studio, shared an anti-Islamic post the previous day alleging Rasraj Das had posted it on Facebook.
Alam made copies of it and distributed those to mobilise people against the Hindu youth.
Rasraj, a fisherman with a background of little education, was detained after a Facebook post from a profile bearing his name had triggered the attack.
Now in police custody, Jahangir confessed his involvement. He told the police during interrogation that he had done it as per instruction of Haripur Union Parishad Chairman Dewan Atiqur Rahman Akhi.
Police arrested Akhi, one of the alleged masterminds of the attack, on January 4.
On November 8, a bail petition of Rasraj was rejected.
Two police probes said internal conflict of local Awami League resulted in the Nasirnagar attacks on the Hindus, while an investigation by Brahmanbaria district administration found no such links.
The district administration probe also found no neglect on part of the local police or the administration.
The police probes have, however, mentioned neglect of duty on part of the UNO and the OC concerned as a reason for the attacks being successful.
Two police probe committees -- one formed by the Police Headquarters in Dhaka and the other by Brahmanbaria district police -- investigated the attack of the religious zealots.
A few days ago, Amnesty International called for action for immediate release of Rasraj from "unlawful detention".
"On November 28, a public report by the district police stated that the image had not been uploaded by Rasraj Das, and someone else had used his Facebook account," the Amnesty said.