$200m needed in 6 months
UN estimates on Rohingya crisis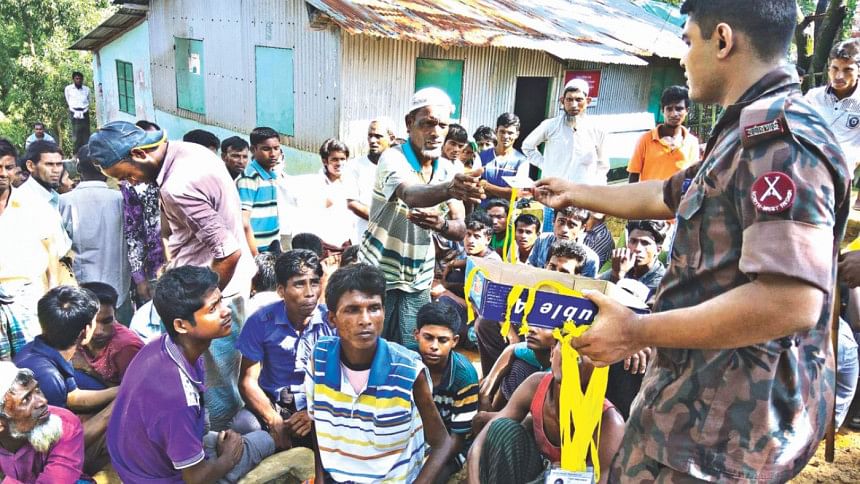 As the number of Rohingya refugees in Bangladesh edges towards half a million, the United Nations estimates $200 million will be needed over the next six months to help the Myanmar nationals.
Meanwhile, the UN High Commissioner for Refugees Filippo Grandi is expected to arrive here today on a four-day visit to get a firsthand experience of the Rohingya crisis and meet the refugees.
"Right now we're looking at $200 million," Robert D Watkins, the UN resident coordinator in Bangladesh, told Reuters yesterday about the aid.
"It has not been confirmed, but it is a ballpark figure based on the estimates on the information we have," he said, adding, "we base these appeals on immediate needs, and right now we know they are going to be here for six months."
On September 9, the Office of the United Nations Resident Coordinator in Bangladesh had appealed for $77 million to assist the Rohingyas who arrived in Bangladesh after violence erupted in their homeland of Myanmar on August 25.
At that time, their population was 290,000, but now it is nearly half a million, according to UN officials.
The UN High Commissioner for Refugees is visiting Bangladesh for a second time in around two and a half months. Fillipo Grandi was here during June 8-11 when he visited two Rohingya camps in Cox's Bazar and urged the international community to continue supporting Bangladesh through resource mobilisation.
During this visit, UNHCR sources in Geneva and Dhaka told The Daily Star yesterday, the UN relief agency chief would hold talks with high government officials, UN agencies colleagues and visit the newly-arrived Rohingyas in Cox's Bazar. He is schedule to leave on Tuesday.
UN officials in Dhaka and Cox's Bazar said Bangladesh government, UN agencies and humanitarian organisations were struggling to help the Rohingyas because of their huge number.
Robert D Watkins told Reuters that the exodus of Rohingyas since August 25 was much bigger than the flows sparked by ethnic cleansing in former Yugoslavia during the 1990s.
"It's different from that here because the numbers are so much bigger…massive numbers in such a short period of time," he said.
The monsoon rains have compounded the problems for the aid agencies, turning roads into quagmires. Watkins said the United Nations was working with Bangladeshi authorities to build new roads.
He said the situation had not stabilised in terms of new arrivals so it was difficult to say for how many people they were planning for, or for how long. "We don't want to plan a 10-year operation, obviously, because we want to maintain hope that there will be a way for negotiating a return of the population," he said.
"We can't plan too far in the future because it becomes a self-fulfilling prophecy. On the one hand, politically, it sends a strong signal, which we don't want to send, which is that people are going to be here for a long time.
"And our donors are not prepared to respond to anything beyond a one-year time frame given the massive amounts of money we are asking for."
Meanwhile, the UNHCR is stepping up delivery of life-saving aid to desperate Rohingyas camped out near two official refugee camps in Cox's Bazar.
"At the request of Bangladeshi authorities, we are speeding up the distribution of plastic sheeting to get as many people as possible under at least minimal of protection from monsoon rains and winds," UNHCR spokesperson Andrej Mahecic said during a press briefing in Geneva yesterday.
UNHCR site planners are on the scene to try to help organise a 2,000-acre (800-hectare) site allocated to new arrivals by authorities.
Known as the Kutupalong extension, the new site is next to Kutupalong camp, which houses Rohingya refugees who arrived over several decades. It is managed by the government and supported by UNHCR.
Mahecic yesterday said they plan to begin distribution of kitchen sets, sleeping mats, solar lamps and other essential relief items to an initial 3,500 families who have been selected by community leaders.
"Refugee volunteers and contractors are helping newly-arriving refugees moving into emergency shelter, but it is vital that our site planners have the opportunity to lay out the new Kutupalong extension in an orderly way to adequately provide for sanitation and to make sure structures are erected on higher ground not prone to flooding."
Many of the estimated 429,000 refugees who have arrived in Bangladesh over the last 3.5 weeks have been staying inside two official camps, Kutupalong and Nayapara, or are living in schools and other public buildings converted into shelters.
RELIEF FROM SAUDI KING
The King Salman Centre has sent 100 tonnes of food, shelter and other relief items to Bangladesh for the Rohingya Muslims.
International Organization for Migration, the UN migration agency, chartered a Boeing 747 to transport the aid. The flight landed in Chittagong yesterday afternoon.
On Wednesday, Saudi King Salman Bin Abdul Aziz had allocated $15 million for the Rohingya refugees.
Saudi Arabia said it would also deploy a humanitarian relief team to Bangladesh to help the refugees in urgent need of help.
The Saudi relief items included tents, sleeping mats, blankets and food baskets, according to an IOM press release.
"Many of these [Rohingya] families are still living in the open without adequate shelter, food or clean water. This airlift, which we hope will be the first of many, will provide some 850 families with tents, mats and bedding to protect them from the daily downpours and extreme heat," said Mohammed Abdiker, IOM director of operations and emergencies.