Bangladesh on Migration Governance Index 2016
Lot more to do for forex earners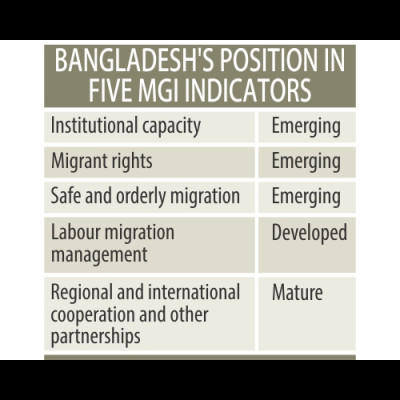 Bangladesh has fared poorly in terms of migration governance in the Migration Governance Index 2016 prepared by London-based The Economist Intelligence Unit (EIU).
It secured poor grades in three of five indicators that define overall migration governance, according to the EIU, research arm of The Economist Group.
The study commissioned by the International Organisation for Migration (IOM) graded the governance indicators on a scale of 0-10 where 10 is the best. The indicators were categorised as nascent: 0-2.49; emerging: 2.5-4.99; developed: 5-7.49 and mature: 7.5-10.
Labour migration is significant for Bangladesh that receives more than $15 billion annually from some eight million Bangladeshis, mostly low and semi-skilled ones, working abroad.
The country's readymade garment industry is the second largest source of foreign currency and vital to maintaining the country's balance of payment.
While the remittance is appreciated widely, experts and activists have long been critical of the country's weak migration governance.
The major factors behind it have been high migration cost, involvement of too many middlemen and visa trading. These factors often lead to hundreds of thousands of migrants leaving undocumented and vulnerable to exploitation.
Many of the migrant workers have to work long hours to recover the money they have spent in going there.
"A World Bank research found that it takes nine months for a Bangladeshi migrant in Kuwait to recoup the money he had spent to go there," said Prof CR Abrar of Dhaka University's international relations department, referring to the higher cost of migration.
Governance in recruitment as well as post migration management in the destination countries are something that need to be urgently addressed, he told this correspondent yesterday.
The Migration Governance Index (MGI) analysed governance indicators of Bahrain, Bangladesh, Canada, Costa Rica, Germany, Ghana, Italy, Mexico, Moldova, Morocco, the Philippines, South Africa, South Korea, Sweden and Turkey.
It considered countries that provide a broad representation of economic development, type of migration profile, including sending and receiving countries, and geographic scope.
Alongside Bangladesh, only two other countries -- Bahrain and Morocco -- got the grade of "emerging" in three domains.
The best performing countries are Canada, Germany, Moldova, the Philippines, South Africa, South Korea and Sweden.
Noting that over 244 million international migrants are there worldwide, the study observed that well-governed migration brings profound benefits to both receiving and sending countries, but poorly managed migration can lead to harm, danger and insecurity.
"It [poorly managed migration] can encourage migrant smuggling and human trafficking, as well as social unrest, xenophobia and discrimination -- as observed amid Europe's ongoing 'migration crisis'," it said.
The MGI graded Bangladesh as "mature" in regional and international cooperation, as it signed the International Convention on the Protection of All Migrant Workers-1998 and the Convention of the Rights of Child 1990. The country is also a member of the Budapest Process, the Bali Process and the Colombo Process and Abu Dhabi Dialogue that deal with migrants' rights.
Bangladesh has several bilateral labour agreements in place and is hosting the Global Forum on Migration and Development later this year.
Professor CR Abrar said Bangladesh has framed laws and policies but their implementation is quite poor. There are almost no measures for reintegration of the returnee migrants in Bangladesh.
"We have a long way to go," he added.