Life as it is
Looking for one single place where you can find all kinds of books in Dhaka? Try Nilkhet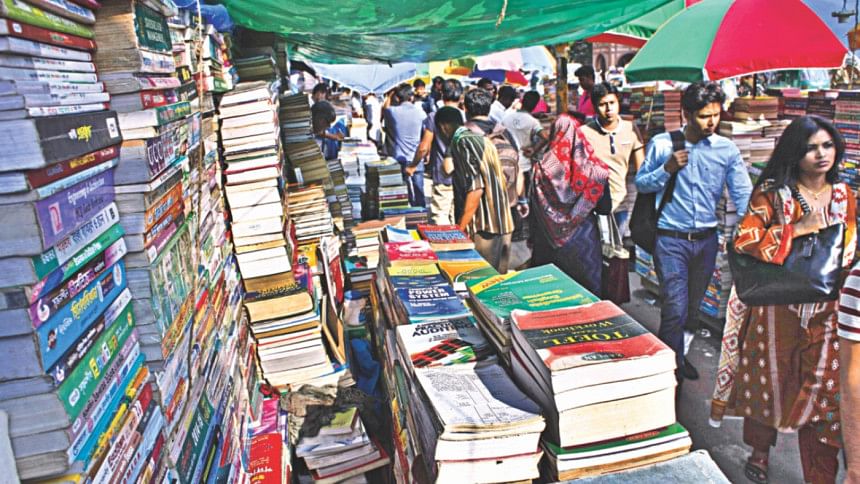 From textbooks and notes for all classes to guidebooks for all competitive exams, from old and latest edition of fictions and nonfictions of world famous writers to used rare books, from magazines of varied types to journals from home and abroad, you will get virtually everything here. It's not for nothing that Nilkhet has come to be an integral part of the city's education.
Even in the era of Google and free download, this market continues to attract students and bookworms of all ages. You can get books at half or even less the actual price, mainly because many of them are pirated. Many others are second-hand ones, but in fairly good condition.
The book market, which has around 400 bookshops, is abuzz all the time with people stumbling across a book they are looking for. For the university students, it is literally the best place to get books, as many of their texts and reference books authored by international writers are available at an affordable price.
"Apart from my texts, I got many important and interesting books in Nilkhet that I never really expected to find there," said Reza, a university student.
There is a huge demand for daily newspapers, magazines and novels too.
Take Shimul, a student of NIIT at Dhanmondi. He had long been looking for a copy of Vogue magazine that he needed to prepare for his exam. And from among dozens of old editions, he found the one he was looking for at the Golden Book Centre.
Nurul Amin, a journalism student of Manarat International University, bought two old fashion magazines for his friend, who studies at BGMEA University of Fashion & Technology, from the same store.
He bought a copy of Uomo and Classy for Tk 100 each, less than a third the actual price.
Ohidul Islam, owner of the stall, said he had books published even 50 years ago.
The sources of books in Nilkhet are as varied as its customers.
"We collect books from different sources," said Jalil, a bookseller.
Another source is the readers themselves. Many return books after reading them and get half the purchase price back.
But many readers are least bothered about where the books or notes came from as long as they are available. 
A lot goes on around us. In this new news project, we started running feature contents based on personal experience. 
We also invite our readers to send similar write-ups for publishing, subject to editing and verification. Please send your 
pieces and also comments and feedback to [email protected].