Farmers Bank Loans: MK Alamgir denies taking commission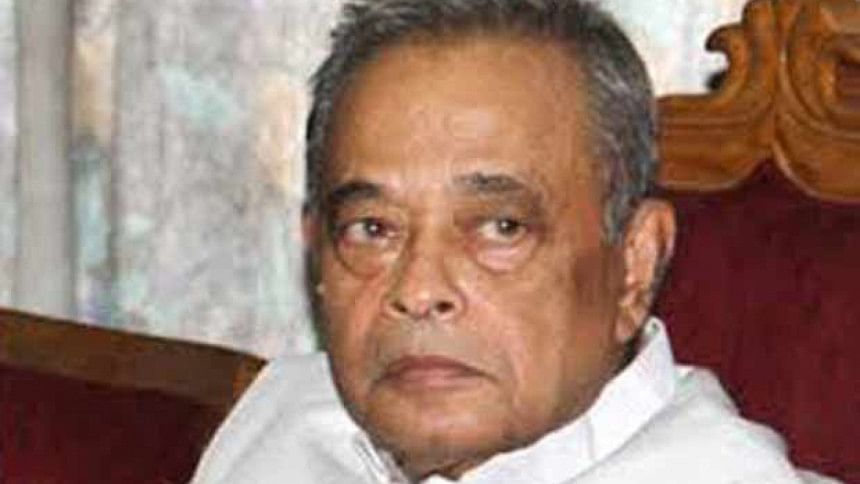 Ruling Awami League lawmaker Muhiuddin Khan Alamgir yesterday claimed that the media reports against him over the Farmers Bank loan scam were based on imagination.
Speaking at the Jatiya Sangsad, he also denied all the allegations of his involvement in irregularities in disbursing loans from the bank when he was its chairman. 
"Three newspapers of Dhaka in the last three days have published false news against me with an ill motive. They said I have taken commission in disbursing loans when I was the chairman of the bank. I never heard such a lie in 77 years of my life," he said while speaking on a point of order.
He claimed that nobody could prove that any money entered his account with the Farmers Bank from those who took loans.
The newspapers mentioned that he transferred Tk 13 crore to his account from a client's account on July 17 last year. 
"No such money entered my account from July 17 to the next seven to 10 days," he said, adding that such allegation was a "barrier to creating a healthy atmosphere in society".
Muhiuddin also called upon Speaker Shirin Sharmin Chaudhury, who was presiding over the sitting, to take necessary measures so that Bangladesh Bank could not reveal private commercial bank's loan disbursement information before the media.
Amid widespread criticism over financial scams of Farmers Bank, established around four years ago, Muhiuddin on November 27 last year resigned from its board after the central bank had asked him to quit.
Non-performing loans at the bank increased significantly in recent months as the board continued to sanction and disburse loans in breach of the banking rules.
Between September and November in 2015, the BB conducted special inspections at the commercial bank's three branches in the city's Gulshan, Motijheel and Shyampur, and found a gross violation of the banking rules in disbursing loans of around Tk 400 crore.
Some directors of the bank were allegedly involved in sanctioning loans, violating the credit rules.
The Farmers Bank doesn't have the capacity to pay back the depositors' money and refund the credit taken from other banks, a BB report said.
Muhiuddin, also chairman of the parliamentary standing committee on Public Accounts, said he was a managing director of Bangladesh Shilpa Bank and presidents of BASIC Bank Ltd and Bangladesh Shilpa Rin Sangstha. But nobody raised any allegations of corruption or irregularities against him.
Pointing to the media reports on the loan scam, he claimed that Farmers Bank did not sanction any loan without proper approval.
He also said an observer of the BB was in the governing body of Farmers Bank. The body was aware of the loan disbursement, he claimed.
He sought the speaker's interference so that media could not make any "imaginary" report on the financial sector as this type of report would have a negative impact on the sector.
He said Farmers Bank had appointed quality officials and staffers following necessary rules.
Muhiuddin said in the media reports, it was mentioned that they got information on Farmers Bank from Bangladesh Bank. But according to the BB order, nobody could provide private bank's information to the media, he added.