Latest Landslide: Rain disrupts rescue work in Bandarban
Road communications with Bandarban cut off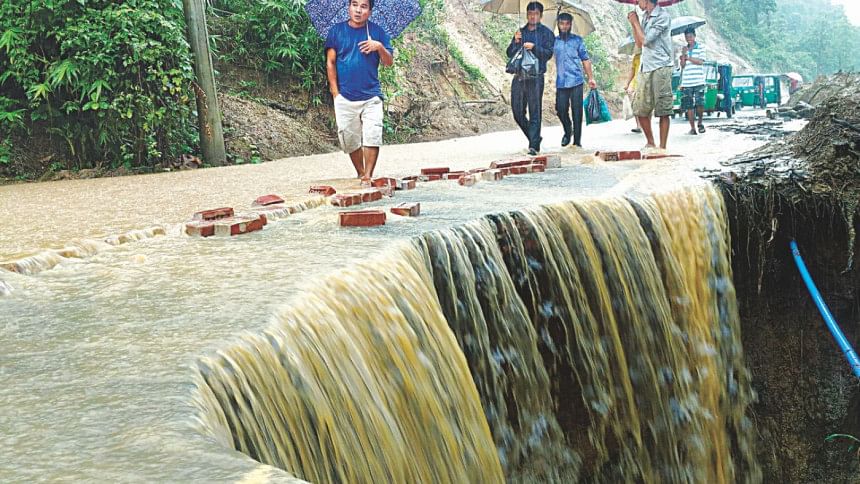 The search and rescue operation for the four people missing in Sunday's landslide in Bandarban was disrupted by heavy rain yesterday.
A teenage girl was also killed when a large chunk of mud fell on pedestrians at Dalian Para on the Bandarban-Ruma road around 9:30am on that day.    
Meanwhile, road communications between Bandarban and other parts of the country snapped yesterday as Bajalia area of Bandarban-Chittagong highway in Chittagong's Satkania went under water due to incessant rain over the last two days.  
In Sitakunda and Hathazari upazilas of Chittagong and in Khagrachhari, eight houses were damaged yesterday in fresh landslides. No casualties were reported.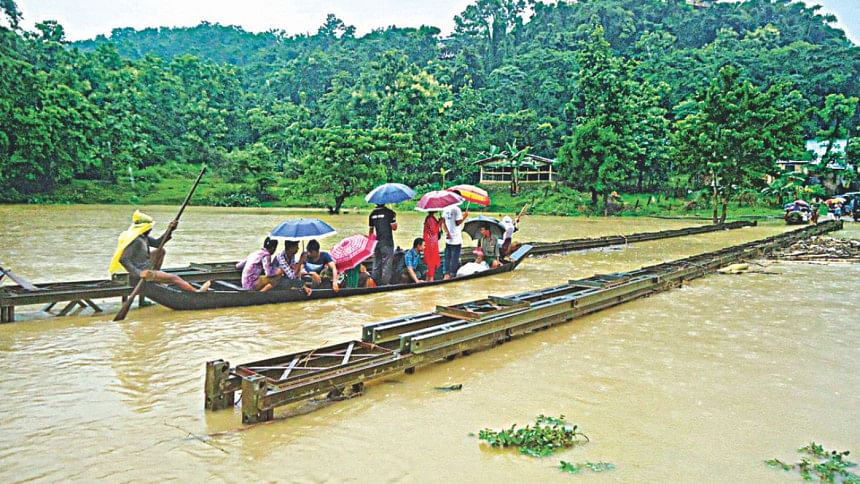 Rafiq Ullah, officer-in-charge of Bandarban Sadar Police Station, said rain was hampering their search for the missing people.
The four missing people are: Ruma upazila Postmaster Jainul Alam, Ruma Krishi Bank officer Goutom Nandi, Health Assistant of Ruma Upazila Health Complex Munni Barua, and Ching Mya Sing Marma of Mong Shwe Prue Para of Ruma.
Aung Thoai Marma, an NGO worker in Ruma upazila, said, "Munni along with 5-6 others was behind me when we were walking on the road damaged by the incessant rain.
"I found myself in a deep ditch after the landslide," said Aung, who was undergoing treatment at Bandarban Sadar Hospital.
"Nobody forbade us to use the road, nor was there any sign for caution at the spot," Aung mentioned. 
In Chittagong, heavy rain-induced landslides yesterday damaged seven houses in Sitakunda and Hathazari upazilas.
Idris Mia Talukder, chairman of Farhadabad Union Parishad in Hathazari, said at least five houses in Tripura Para were damaged as a chunk of mud fell on those early yesterday. Another house in Sobuj Tila area was damaged in another landslide.
In Sitakunda upazila's Jungle Salimpur area, a house was damaged in a landslide, said Mohammad Nasir, sub-inspector of Sitakunda Police Station.  
In Khagrachhari, downpour over the last two days triggered several small landslides in different areas of the Sadar upazila, and a house was damaged at Shalbagan yesterday afternoon.
Three shelters have been opened in the district for the people who are vulnerable to landslide, said Rashedul Islam, deputy commissioner of Khagrachhari.
Our correspondents in Bandarban, Chittagong and Khagrachhari contributed to this story.