India to help secure remote borders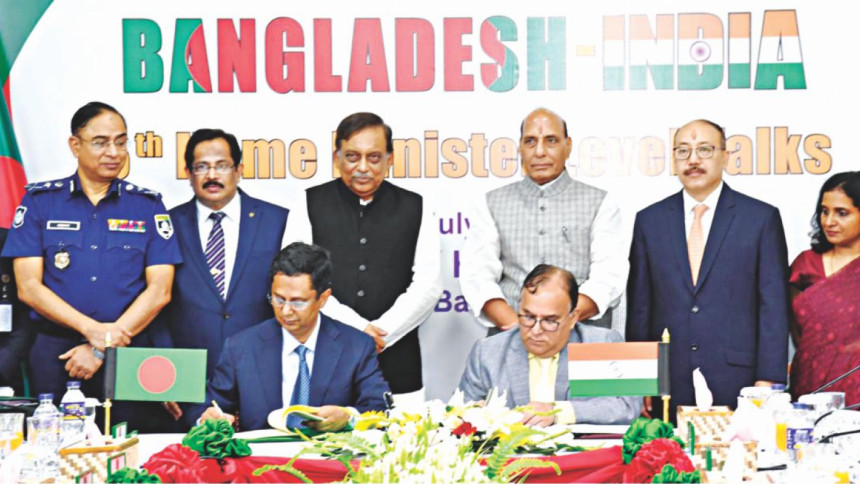 India has assured Bangladesh of all sorts of cooperation in setting up border outposts (BOP), constructing roads and installing surveillance equipment and censors in remote bordering areas.
The Indian assurance came at the sixth home minister-level talks between Home Minister Asaduzzaman Khan Kamal and his Indian counterpart Rajnath Singh yesterday.
After the talks, Home Minister Asaduzzaman said some places along the long border with India remain unguarded and through those points anything might enter anytime. Both Bangladesh and India are working to stop influx of anything, he added.
"We have conveyed to India that we want to set up BOPs, construct roads in the remote border areas to ensure accessibility there and bring the areas under surveillance," Kamal told a post-talks briefing.
He further said Bangladesh further conveyed to India that it wants to set up surveillance equipment and censors and India assured of every cooperation so that human or drug trafficking can be completely checked.
Speaking anonymously, a Border Guard Bangladesh official said they sought India's permission to use its roads along the border in the remote hilly areas to carry construction materials to set up the BOPs and construct roads along the remote hilly borders of Bangladesh around three years ago. In some cases, Bangladesh sought permission to buy construction materials as well, he added.
The official said the Indian authorities have assured of providing necessary cooperation.
Bangladesh shares 4,156-kilometre-long border with India and some stretches of that border in the hilly areas remain mostly unguarded.
During yesterday's talks held at the home ministry's conference room, Asaduzzaman Khan led a 13-member Bangladesh delegation, while Rajnath Singh led a nine-member Indian delegation. Both the ministers also discussed security related matters of interest including counter-terrorism, capacity building of different forces and the ministry's divisions, countering illegal activities like fake currency, drug and human trafficking.
The Indian home minister wrapped up his three-day official visit to Bangladesh after the meeting.
The two ministers yesterday also witnessed the signing of a Revised Travel Arrangement 2018 (RTA 2018) amending the earlier RTA 2013 under which India would provide five-year multiple-entry visa to people aged 65 and above and the freedom fighters.
Secretary to Security Services Division Farid Uddin Ahmed and Special Secretary to the Department of Border Management of India Sri Brij Raj Sharma signed the agreement on behalf of their respective countries.
Around one crore people from Bangladesh travel to different countries every year and at least 30 lakh of them go to India, said the Bangladesh home minister.
Earlier in the day, Rajnath paid homage to Father of the Nation Bangabandhu Sheikh Mujibur Rahman by laying a wreath at Bangabandhu Museum in Dhanmondi. He also offered prayers at the Dhakeshwari Temple in Dhaka.
Rajnath expressed the hope for a long-lasting friendship between Bangladesh and India and appreciated Bangladesh's hospitality during his visit.
"After spending three days in Bangladesh, I'm heading back to New Delhi. I'm deeply touched by the warmth and hospitality of the people of Bangladesh. Bharat-Bangladesh Moitree Chirojeebi Hok," said Rajnath in a tweet as he left Dhaka for New Delhi at 1:00pm on a special flight.
The last home minister-level talks were held in New Delhi in July 2016.
Rajnath met Prime Minister Sheikh Hasina and discussed various issues of mutual interests. The two home ministers also inaugurated a new state-of-the-art and integrated Indian Visa Application Centre (IVAC) at the Jamuna Future Park in Dhaka.
He also visited Rajshahi and jointly inaugurated the Bangladesh-India Friendship Building at the Bangladesh Police Academy, Sardah with his Bangladesh counterpart.
HOME MINISTER'S BRIEFING
The Indian minister said the present ties between Bangladesh and India are at the peak, according to Asaduzzaman Khan. An excellent understanding exists between the two neighbours and all problems have been solved through discussion, he observed.
"If any problem arises in future, we will resolve those through discussion," he told the briefing.
"India has assured us that if we need higher training for our police, BGB, Coast Guard, firefighters and prison officials and staff, they will extend necessary cooperation. They will also help in capacity building of the divisions under the home ministry."
Referring to fake currency, he said India was in an embarrassing situation and Bangladesh was also in an awkward situation over the issue.
"We have let them know about what we have done to resolve the fake currency problem. They have expressed their satisfaction," the minister said, adding, thanks to Bangladesh's steps those problems are now out of concern.
"Whenever we get anyone involved in such offences, we bring them to book."
He further said Bangladesh is firm that it would not allow an inch of its land to operate terror activities or separatist movements against any friendly and neighbouring countries. "We follow a policy of zero tolerance in this regard," he added.
He also said India extended all types of support to Bangladesh as sought by them to counter terrorism and militancy. "They're exchanging information with us so that we can combat terrorism and militancy," he noted.
On Myanmar issue, India said they would extend their cooperation and would work for rehabilitation of the Rohingya refugees.
Drugs like Phensedyl which are smuggled into Bangladesh have decreased to a large extent as India closed Phensedyl factories along the border, the minister added.
Replying to a query about bringing back two killers of Bangabandhu from India, the minister said, "A committee was formed earlier to look into the matter. The members of the committee are working to that end."