If I can, you can too
Word of inspiration at job fair for people with disability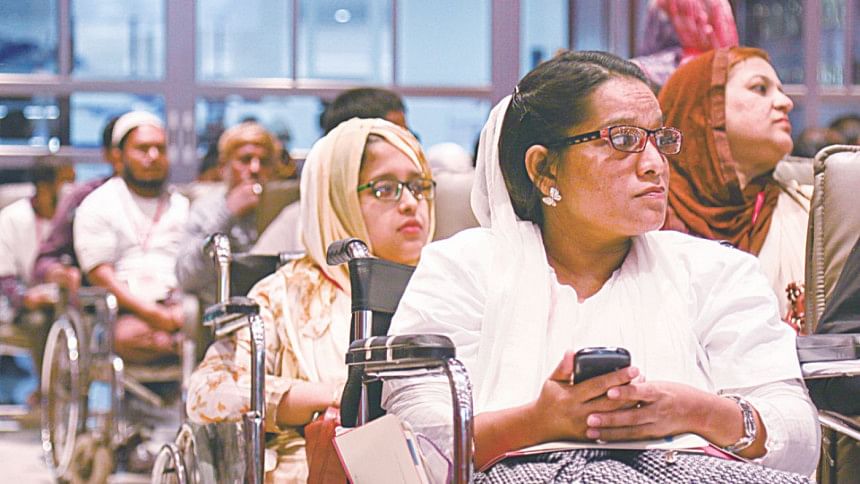 No one provided Bhashkar Bhattacharya with a job, even after he came back from Japan armed with a degree a year ago. The problem, however, had nothing to do with his qualifications, but with his eyes with which he cannot see.
But it was his ability to keep dreaming bigger which took him to the position of a national consultant at the Prime Minister's office.
Bhashkar began his speech with his tale of hardship while addressing the audience at the "Chittagong Job Fair for Persons with Disabilities 2018".
The fair was organised by Bangladesh Business and Disability Network at World Trade Centre in Chattogram yesterday.
"If a visually impaired person like me could become the leader of a team which is working on making 'one of the biggest websites of the world' accessible, any one of you can do it too," said Bhashkar.
"These days, you won't find too many visually impaired persons who are not using smart phones. We are getting educated, so don't just turn your back on us. We don't want your pity, we want to contribute in your corporations," he added.
He added that Bangladesh signed the United Nations' Convention on the Rights of Persons with Disabilities in 2007, which mentions the employment of the persons with disabilities.
"To acquire Sustainable Development Goals, the country cannot ignore the number of differently able persons," he added.
A total of 180 persons with disabilities participated in the fair. The programme began at 10:00am and continued till 5:00pm in two phases.
In the first phase, a seminar discussing the importance of empowering the person of disabilities was held, while in the second phase, a spot interview opportunity was held where different organisations and companies set up stalls and interviewed the participants for different posts.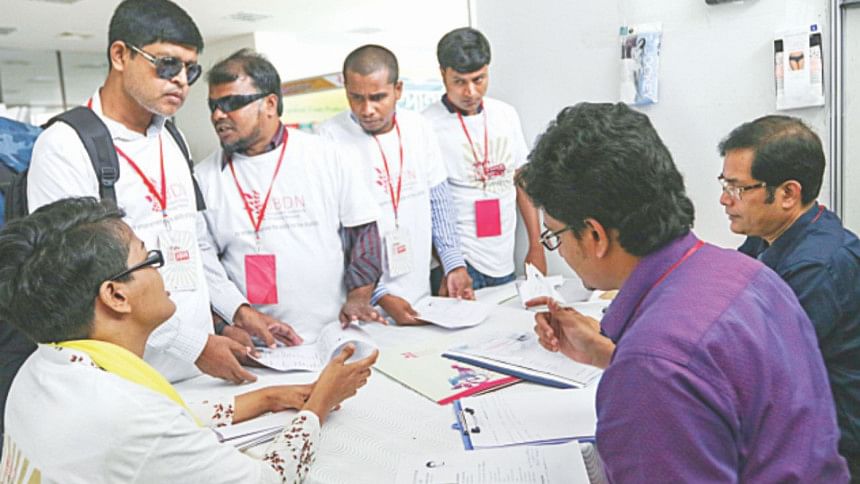 Md Jibon Chowdhury, a visually impaired person, said he used to work in a garments factory in Kalurghat for two years. But the amount of salary he earned could not even help him manage his conveyance as he lived at Agrabad, which was in another corner of the city.
"Such fairs give us the opportunities we had been missing," said Jibon.
Iqbal Bahar Chowdhury, police commissioner of Chittagong Metropolitan Police was the chief guest at the programme, Ligaya Laoeng Dumaoang, Specialist at TVET and Skills Development of International Labour Organisation was the special guest, while Mahbubul Alam, President of Chittagong Chamber of Commerce and Industry, presided over the programme.