Get rid of the middlemen
Farmers hold unorthodox demo; demand govt buy rice, wheat from them directly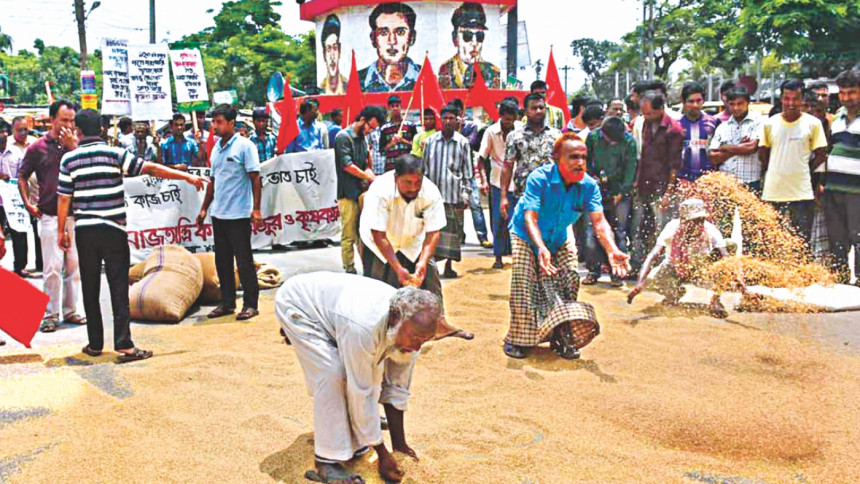 Farmers yesterday staged a demonstration in Rangpur city, demanding that the government immediately buy paddy, rice and wheat directly from them during the ongoing procurement drive across the country.
Farmers from different places gathered at Satmatha and staged the demonstration on Rangpur-Kurigram highway with festoons and banners at the call of the Rangpur unit of Samajtantrik Khetmajur O Krishak Front. 
Speakers at the programme said farmers of eight northern districts in Rangpur division were incurring losses despite this season's bumper production of Boro paddy due to favourable weather.
Besides, the paddy procurement drives are disappointing farmers as genuine paddy producers are allegedly not being allowed by middlemen and influentials to supply their paddy and rice to the government.
The speakers also criticised government officials for the delay in starting the procurement drive. The drive was to start on May 5, but it began after May 12 in many places.
The government fixed the prices at Tk 23 and Tk 32 per kilogram of paddy and rice respectively, while the rate of per kg of wheat was set at Tk 20.
They also alleged that not a single gram of paddy or rice was procured directly from the genuine paddy growers since the drive began. 
As the farmers cannot take advantage of the procurement drive, they are selling their produce at throwaway prices.
The speakers called upon the government to consider the farmers' demands seriously.
Palash Kanti Nag and Anwar Hossain Babul, leaders of the farmers, were among those who spoke at the programme.