Flash flood hits Sylhet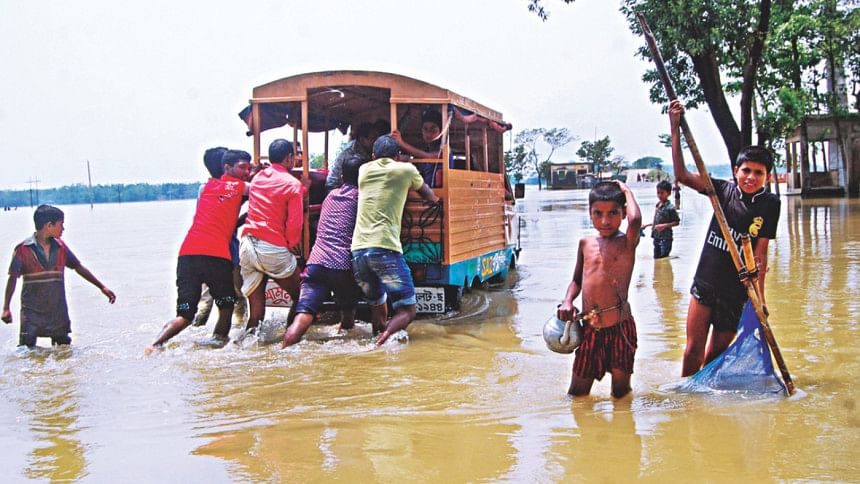 Heavy rain and the onrush water from the hills triggered a flash flood in Gowainghat and Jointapur upazilas of Sylhet yesterday, marooning around 2,000 families in 30 villages.
Water flooded low-lying areas of the upazilas. The water also flowed into Sylhet Sadar and Kanaighat upazilas two or three days ago.
Nijpath, Fotepur, Dorbost and Chiknapur villages of Jointapur and Pachim Jaflong, Purbo Jaflong, Rustompur, Dhobari, Lengura and Toakul villages in Gowainghat upazila went under water as the rain continued, locals said.
Abdul Alim, 58, of Unanpur village in Gowainghat, said heavy rain in the last two days caused the flooding. "Water from the Gowain river started to enter our home since Saturday evening."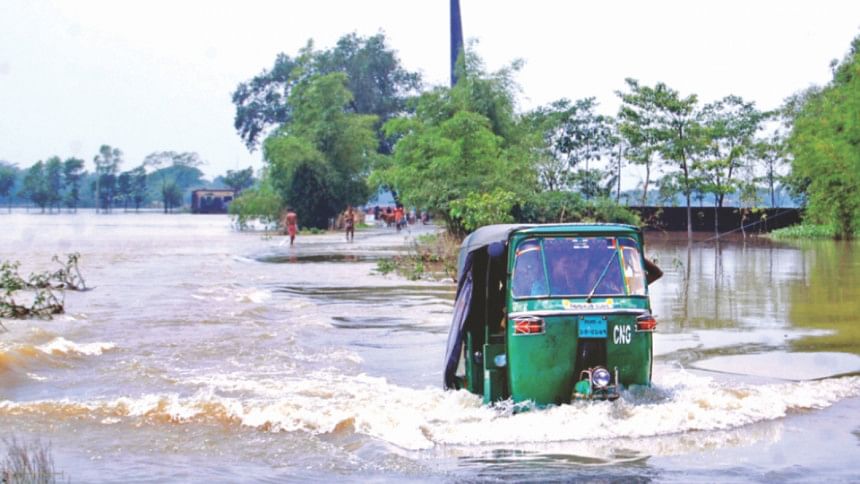 Another victim Joynul Miah, 65, of Jaflong tea garden in Gowainghat, said water from the hills began to flood the area since Saturday night, forcing the villagers to take shelter on road.
Joynal Abedin, Jointapur upazila chairman, said floodwater entered 13 villages in the upazila and around 1,200 families were affected.
On information, Water Development Board officials visited the areas.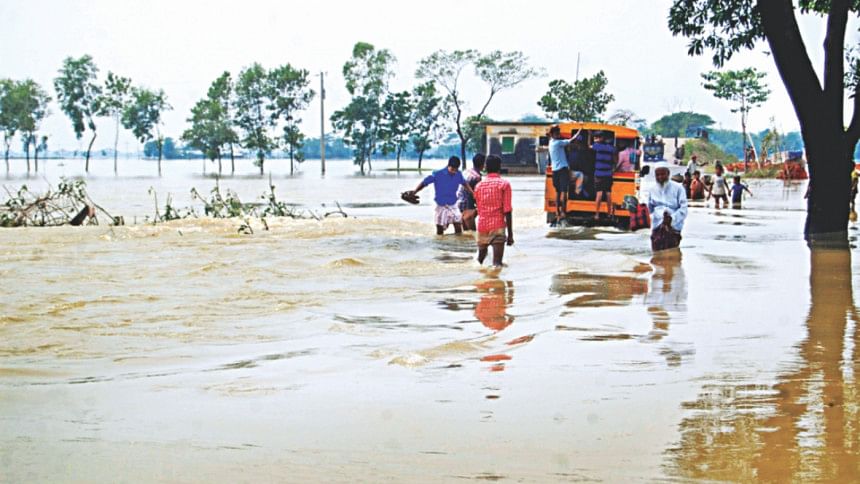 Abdul Hakim Chowdhury, chairman of Gowainghat upazila, said road communications between the upazila headquarters and Pachim Jaflong, Purbo Jaflong, Rustompur, Dhobari and Lengura unions remained snapped.
Dykes at Nayeakhel, Bhittikhel, Thubang, Baladara and Shurkhel had already been damaged. As water level in the Gowain and Shari rivers was rising, thousands of families living by the riversides were in fear of losing their crops and homes, he added.
Joynal Abedin, deputy commissioner of Sylhet, said they informed their higher authorities about the matter.