Five JMB men sentenced to life in Natore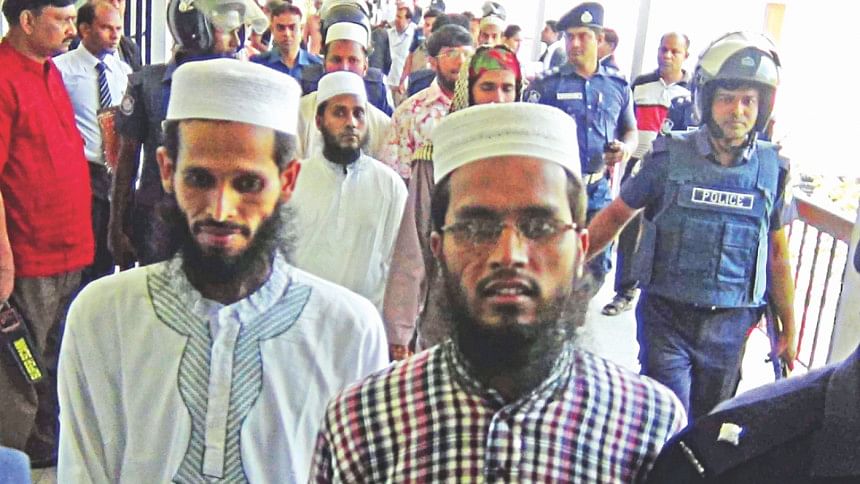 Five operatives of banned militant outfit Jama'atul Mujahideen Bangladesh were yesterday sentenced to life in a case filed for the serial bombings in the district on August 17, 2005.
The lifers are Abdur Rashid alias Asik, Shihab Uddin Shihab alias Hamzala, Delwar Hossain alias Mithu, Hafizur Rahman Hafiz alias Noman and Abdul Matin alias Ismail.
Pradip Kumar Ray, additional district and sessions judge in Natore, however, acquitted two other accused -- Shafiullah alias Tarek and Shahidullah alias Faruk -- of the charge.
The court fined each of the five convicts Tk 30,000. In default, they will have to serve one year more in prison.
Of the seven accused in the case, six were produced before the court while Shafiullah, now in Gazipur's Kashimpur jail, could not be brought due to yesterday's Jamaat-enforced countrywide dawn-to-dusk hartal.
Delivering the verdict, the judge said the five had confessed to their involvement in the bombings.
JMB men had carried out bomb attacks at eight significant places in Natore town, including the deputy commissioner's office, press club and bus terminal.
Pubic Prosecutor Sirajul Islam said they were happy with the verdict.
Amel Khan Chawdhury, defence lawyer, claimed that his clients did not get justice. They would appeal to the High Court.
On August 17, 2005, around 500 bombs went off at 300 locations in 63 out of the 64 districts across the country. The bombs exploded in half an hour from 11:30am.
Later, the JMB claimed responsibility for the blasts.