Five errant cops should face music
Departmental actions against them recommended over tea vendor's death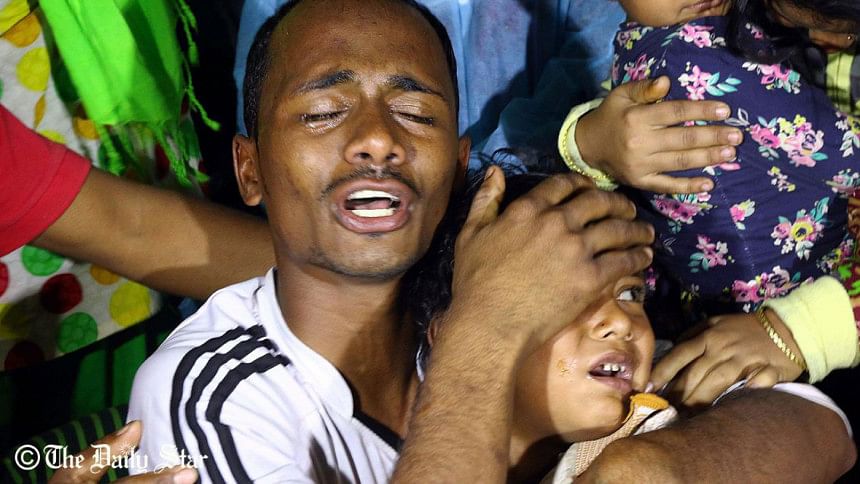 A police probe report into the recent murder of tea vendor Babul Matubbar in the city's Mirpur recommended taking departmental action against five cops, including the then officer-in-charge of Shah Ali Police Station.
The five are: OC AKM Shahin Mondal, sub-inspectors Mominur Rahman Khan and AKM Niaz Uddin Mollah, Assistant Sub-inspector Debendra Nath Sarkar and constable Mohammad Jasim Uddin.
DMP Additional Deputy Commissioner (Mirpur Division) Masud Ahmed, who led the two-member probe committee, yesterday submitted the report to DMP DC (Mirpur Division) Syed Kaiyumuzzaman Khan.
The report will be handed over to Dhaka Metropolitan Police (DMP) Commissioner Asaduzzaman Mia.
The committee found that Mominur, Debendra and Jasim neglected their duties as they did not take prompt steps when Babul Matubbar fell on a burning kerosene stove, a DMP official said on condition of anonymity.
He said police informant Delwar went to Babul's tea stall on February 3 to take the latter to the police station. As the two scuffled, Babul fell on the stove and got burnt badly. The three policemen were some 150 yards away from the spot, but they did little to save Babul.
The victim, who suffered over 90 percent burns, died at Dhaka Medical College Hospital the following day.
The report also recommended taking action against Niaz as he was the duty officer at the police station on that day when the police informant, who was caught by locals and handed over to the police, fled the police station.
The DMP officer said the OC failed to supervise both the incidents.
Following the allegation of some cops' involvement in the murder, Mirpur Division police and the DMP headquarters formed two committees to investigate the incident.
The DMP-formed committee, which submitted its report to the DMP commissioner on Sunday, also had similar findings on the incident. 
Earlier, five policemen of Shah Ali Police Station were suspended and OC Shahin was withdrawn from the station.