First clash after WC quarterfinal
Tigers meet India in first ODI today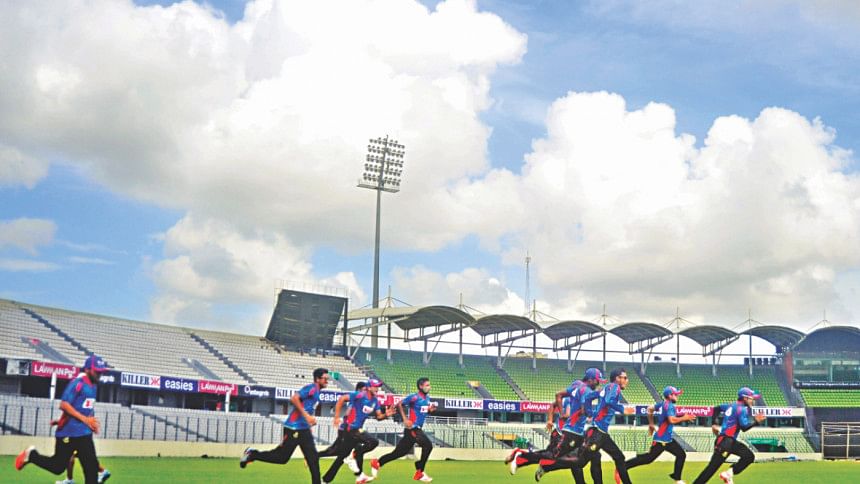 India captain Mahendra Singh Dhoni yesterday said that the World Cup quarterfinal at the MCG against Bangladesh was 'just a game of cricket'. It may be more than that for an aggrieved Bangladesh because of what had happened in that much talked-about game where some umpiring decisions had gone against them.
Three months after that game the two teams, featuring almost the same cast and characters, will renew their one-day rivalry at Bangladesh's home of cricket in Mirpur today. The match, first of the three ODIs, will start, weather permitting, at 3pm.
The word 'rivalry' is certainly misleading when it's a game between India, the second best one-day side after Australia, and Bangladesh, a team striving to get out of the bottom. The head-to-head statistics also paint a dismal picture for Bangladesh -- three wins against 25 defeats. The other game was washed out.
For Dhoni, today's match will be just another game of cricket while his Bangladesh counterpart Mashrafe Bin Mortaza rightly said at a pre-match briefing yesterday that India were the overwhelming favourites.
So, what do we expect from the game?
From India's perspective, it's time to bury their opponents under an avalanche of runs, what Dhoni's men have been doing so ruthlessly against any team in the world, and win big to silence the critics, if there is any, in this part of the world.
For Bangladesh, who have been playing eye-catching cricket, especially in the one-day version since the World Cup down under, it should be the first serious attempt to make a mere match into a kind of rivalry against their decorated neighbours.
A tough ask, but they can draw inspiration from their overwhelming 3-0 success against India's perennial rivals Pakistan just over a month ago.
The secret of the Tigers' success of late is the inspirational presence of Mashrafe, who himself has made it a standard of giving 200 per cent even with his bad legs. Under his leadership, the Tigers have turned into a competitive unit which preaches collective effort instead of star value.
The Tigers will however miss one of their key World Cup comrades Mahmudullah Riyad, who scored back-to-back centuries and was controversially given out in the quarterfinals against India, due to a finger injury.
The Bangladesh team management is yet to decide who will replace Mahmudullah in today's game. There are three players in the race -- Mominul Haque, Litton Das and Rony Talukder. Among them young wicketkeeper-batsman Litton, who impressed on his debut in the one-off Test against India last week, may win the last minute battle. In that case it will give the 20-year-old his ODI debut too.
The series so far has been severely disrupted by rain as the lone Test ended in a draw after nearly three days were washed out. However there is a reserve day for each ODI, and if rain stops a day's proceedings, the game will continue into the following day.