Falling Potato Prices: Cold storage owners in a fix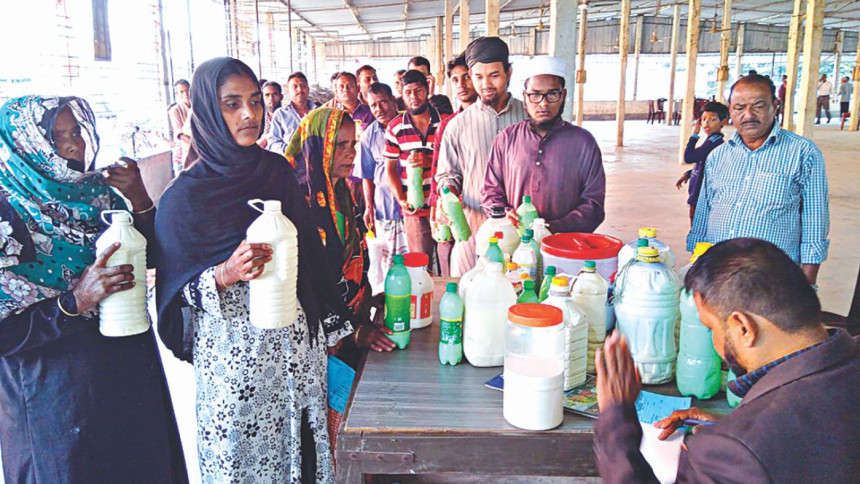 The owner of a cold storage facility in Thakurgoan has resorted to a novel approach in dealing with the falling prices of potatoes.
Potato farmers and traders in Thakurgaon have not been withdrawing their potatoes from cold storages as the price and demand of the agricultural produce is very low.
The cold storage owners are concerned about this as they are failing to realise the loans given to the farmers against sacks of potato and rent for the use of cold storages. Many are also selling the potatoes stored in the cold storages at very low prices.
The rent for the storage is around Tk 300 per sack which traders allege are less than what it can be sold for.
To make the best of a bad situation, yesterday Abdus Salam Hawlader, owner of Hawlader Cold Storage, gave away sacks of potatoes, each weighing 60 kgs, lying in his cold storage in exchange for one litre of milk. He distributed the milk among destitute people.
Salam said when he contacted the wholesalers, they offered him Tk 30 for a sack of potatoes weighing 60 kgs.
Hawlader Cold Storage sources said the cold storage has a capacity of 1.50 lakh sacks of potato with farmers keeping 1.32 lakh sacks of potato this season. The farmers and traders however, did not withdraw 22,000 sacks of potato as the demand and price fell. Hawlader Cold Storage authorities are now facing a loss of about Tk 5 crore.
On a spot visit to Hawlader Cold Storage at Jagannathpur on Dhaka-Dinajpur highway yesterday, several hundred men and women were seen waiting with bottles of milk which they would exchange for potatoes.
Talking to this correspondent, Abdul Momin of Nischintapur said, now there is a crisis of fodder for cattle.  He said he took five sacks of potato in exchange for five litres of milk and will boil the potato to use as food for cattle.
Children had also come to collect potatoes in exchange for milk.
There are currently 13 private cold storages in the district, sources said and those have a capacity of storing 14.28 lakh sacks of potato.  Last year, 13.69 lakh sacks of potatoes were stored in the entire season. This season, till December 10, only over 4 lakh sacks of potatoes were taken out of the cold storages. As a result the cold storage owners are in trouble.
Deputy Director of the Department of Agricultural Extension (DAE) KM Maududul Islam at his Thakurgaon office said in the last season there was bumper crop of potato in the country which resulted in the fall in demand and price. This year, there was a bumper crop too.
Members of the cold storage owner's association say that people prefer buying newly harvested potatoes as those taste better and cost almost half the price from last year.