Eyes in the shadows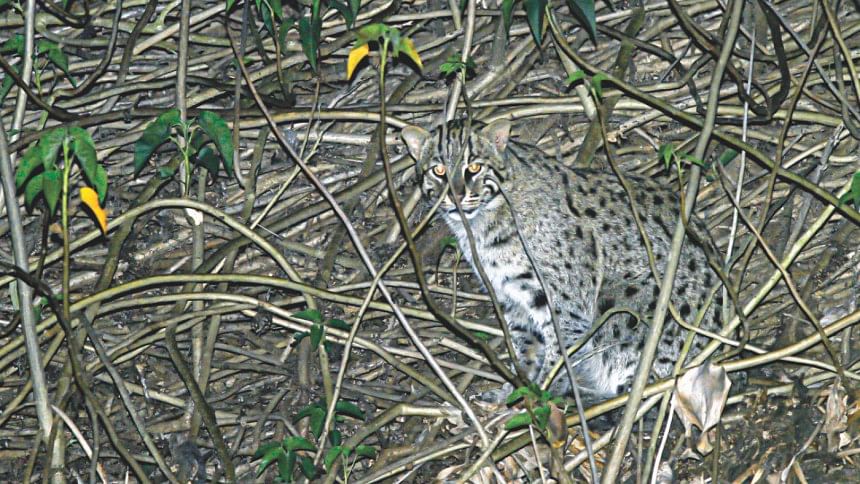 Six years ago we were camping at Hail Haor in Moulvibazar's Sreemangal to study migratory passerine birds. Although our work involved watching birds early in the morning, we took the rare opportunity of our nights spent in a haor to look for other creatures, especially those who are active at night. I pitched my tent before it was dark and waited for the moon to rise to take a stroll around.
Soon the moon appeared, spreading light across the plains and allowing us to walk without headlamps. Fireflies glittered along the creeks of water hyacinth. The Night Herons and Starlings flew into the sky like a storm of feathers as I walked through the dwarf trees.
Apart from stars, the moon and fireflies, a fourth light reflected closer to the ground: we only saw it when we lit our headlamps to locate a frog that was calling near the water. One of my colleagues spotted two glimmering eyes in the bush looking straight at us. The motionless eyes rested near the water. We realised that it was a wildcat and wanted to have a closer look. The cat did not change its position, even after noticing our movement on the other side of the creek.
A few Whistling Teals flushed and vanished into the dark line of tall trees in the distance. Not a single leaf moved, and suddenly the lowly night creatures stopped calling -- we were about to uncover the mystery behind the shining eyes in the dark.
We soon discovered that it was an adult fishing cat that had just come out of its den to hunt fish. Many nocturnal animals appear to have glowing eyes because the back of their eyeballs contain a layer of tissue called the tapetum lucidum, which helps animals to see better in low light. Unlike many other wildcat species, fishing cats love water and are largely dependent on wetlands for their survival.
This short, powerfully-built cat is about double the size of a domestic cat, but its global population is doing poorly. It is one of the most threatened wildcats of Asia and vanishing rapidly from our wetlands due to habitat loss and indiscriminate killing.
In Bangladesh, they are known as mechho bagh or mechho biral, and are often killed by people in rural areas, possibly because they are seen as a threat to poultry, fisheries and even livestock, whereas fishing cats play a key role in maintaining healthy wetland ecosystem. Over the years, we have seen many photos of dead cats in newspapers that were beaten by village mobs, strangulated or hung for display after being killed. It bothers me deeply that often villagers illegally kill these harmless cats for amusement.
FISHING CATS DISAPPEARING FAST
In order to understand human-fishing cat conflicts, we analysed of a total of 82 reports on fishing cats in national and local newspapers published between February 2010 and March 2013. This basic research revealed 30 confirmed deaths in just four years. Other reports included 18 "rescued-released" cases by the forest department, and the fate of other 38 cats remained unknown. In almost all cases of fishing cat mortalities, the causes of deaths were killing, snaring, captures and subsequent starvation.
In recent years, the Forest Department has done an excellent job in controlling illegal wildlife trade, especially in the case of wild birds. The department needs more resources to address this issue. However, I am hopeful that the department will be able to stop the indiscriminate killing and capture of fishing cats all over the country if its officials are provided with appropriate tools.
The writer is a Conservation Biologist and Ornithologist, currently working on threatened species conservation and research in Bangladesh and abroad.