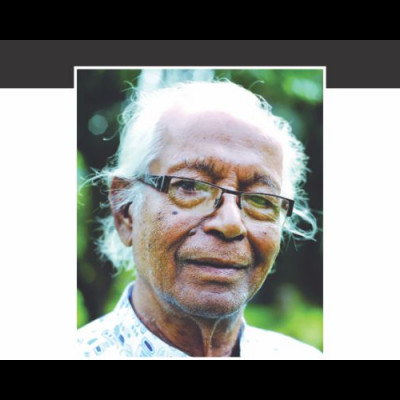 Eminent naturalist Prof Dwijen Sharma passed away at a city hospital yesterday. He was 88.
Prof Dwijen, who had long been suffering from various old-age complications, was admitted to the intensive care unit (ICU) of Birdem Hospital on August 30. On Thursday, he was moved to Square Hospital where he breathed his last around 3:50am yesterday.
The revered science author was awarded Bangla Academy Award in 1987 and Ekushey Padak in 2015 for his contributions to language and literature.
A leading advocate for a nature-friendly city, Prof Dwijen worked tirelessly to nourish and create green patches within the capital Dhaka.
"I dreamt that Dhaka would be a garden city -- there would be parks, a riverfront on the banks of the Buriganga, open fields where children would play -- the whole city would be like Ramna Park…" he said in an interview in 2013.
His father, Vishak Chandrakanda Sharma, was a famous Kabiraj (herbal medicine practitioner) and mother Magnamayi Devi a social worker. At home his father had a large library that helped shape his worldview.  After getting his MSc in Botany from Dhaka University in 1958, Prof Dwijen joined the BM College in Barisal and taught there till 1962. 
He took part in the education movement in 1962 and was arrested and had to stay in security prison for three months in Barisal.
Later, he joined Notre Dame College where he taught till 1974. He designed a landscape garden that still beautifies Notre Dame's campus. That's one thing about Dwijen Sharma -- wherever he worked, he made gardens.
Renowned folklorist Shamsuzzaman Khan said, "When I was the DG [Directorate General] of the national museum, we made a botanical garden under his [Dwijen Sharma] supervision at the back of the museum. Again when I joined Bangla academy, we sought his guidance in planting trees on the premises of Bangla Academy."
Prof Dwijen's famous books include Shamoli Nishorgo (Green Nature), Shomajtontre Boshobash (Living in Socialism), Jiboner Shesh Nei (No End To Life), Phoolgulo Jeno Kotha (Each Flower Is A Word) and Biggan Shikkha O Daiboddhotar Nirikh (Science Education and Our Responsibilities).
He left behind his wife, a son and a daughter and a host of relatives to mourn his death. His last rites would be performed after his daughter Sreyashi Sharma returns from abroad, reports BSS.