Policeman hacked in Rajshahi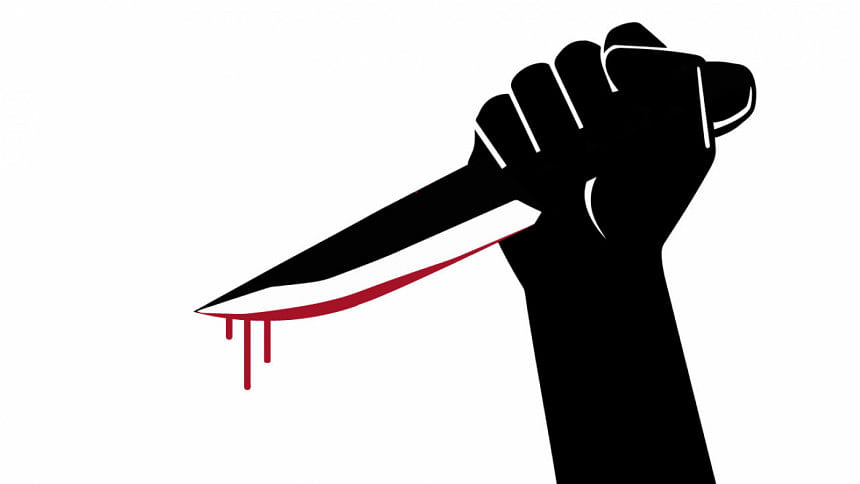 An unidentified man hacked an on-duty police constable in front of a traffic police office in the city's Bhatapara area yesterday afternoon.
Joy Ram Kumar, 25, constable attached to the traffic police office, was admitted to Rajshahi Medical College Hospital (RMCH) with two injuries to his head and right hand, said Anirban Chakma, deputy commissioner (traffic) of Rajshahi Metropolitan Police.
The attack came just two days after another on-duty police constable Abu Bakar Siddik was run over by a motorcycle at a checkpoint in Godagari upazila's Premtoli area. He later died of his wounds.
Yesterday, Joy Ram went to the traffic police office to hand over a motorcycle which was seized at a checkpoint on Rajshahi-Chapainawabganj highway in the city's Kashiadanga area.
As the constable came out of the office carrying a red helmet in hand around 4:30pm, a young man wearing lungi and a black T-shirt attacked him with a machete, said Golam Ruhul Kuddus, spokesman and deputy commissioner of RMP, quoting witnesses.
The attacker hacked him twice, snatched the helmet and fled the scene.
Later, some other policemen sent Joy Ram to the RMCH.
In the previous incident, a team of police set up a checkpoint in Premtoli area on the Rajshahi-Chapainawabganj highway around midnight on Saturday to check vehicles for narcotics.
As constable Abu Bakar signaled a motorcyclist to pull over, the biker ignored the signal and ran him over, leaving him critically injured.
Police said the biker, later identified as Sohel Rana Pintu, 35 from Madarpur village in Godagari upazila, was also injured in the incident.
The two were sent to the RMCH where the constable died of his injuries on Sunday morning.
Godagari OC Jahangir Alam said it seemed to them that it was an accident. The police filed an accident case in this connection.He said Sohel Rana was undergoing treatment at the hospital.