Ctg-rangamati Road: Reopens partly after 8 days
Army put in tremendous efforts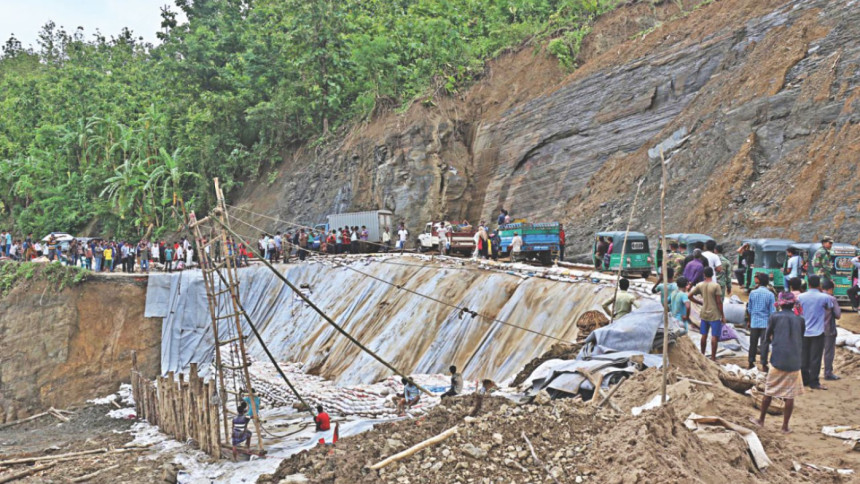 Road communication between Rangamati and Chittagong was restored yesterday on a limited scale after the authorities had repaired and opened a severely damaged area of the highway at Sapchhari point, nine days into the devastating landslide in the district and elsewhere.
Only three wheelers and light vehicles would be able to use the road for the time being, Lt Col Md Mashfiqul Alam, commander of 19 Engineers Construction Battalion, told The Daily Star at the disaster hit point where the road was washed away.
He said it was opened for public at 2:15pm.
More than 100 points of the highway was damaged in the landslide that snapped the road link between Rangamati and other parts of the country for nine days. Goods were coming through waterways and the government also made waterways transportation toll free to ease smooth transportation.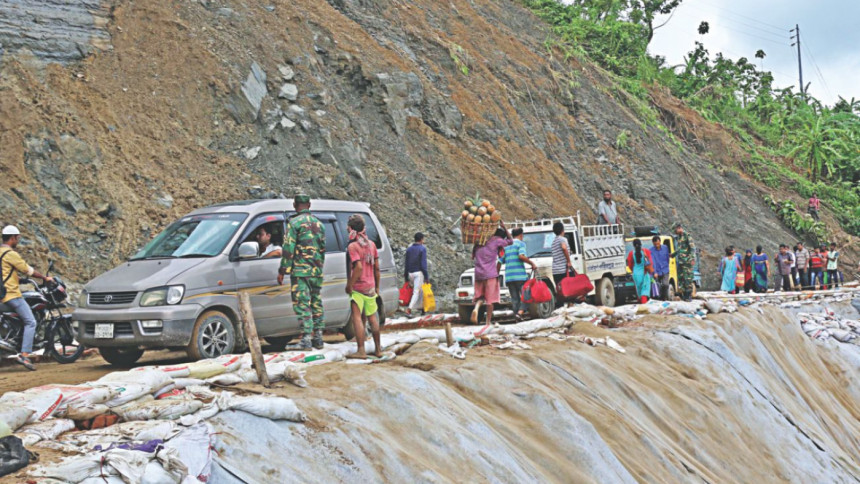 With restoration of limited road communication, goods would still be coming through the waterways, said an official.
Members of the Army Engineering Corps along with the Roads and Highways officials worked relentlessly to repair the road and clear the soil, mud and stones from its surface.
Secretary of Road Transport and Highways Division MAN Siddique, General Officer Commanding of 24 Infantry Division Maj Gen Jahangir Kabir Talukder, the chief engineer of Roads and Highways, Rangamati region commander and commander SWDO of Bangladesh Army were present when the road was opened some 13km away from the town.
Lt Col Mashfiqul said heavy vehicular movement was not possible and it would need either a 150-metre-long Bailey bridge or an alternative road to that end.
Deputy Commissioner Mohammad Manzurul Mannan told The Daily Star the situation in the district would improve since road communication had been restored.
The district administration has meanwhile included two more persons in the death toll. Rubi Akhter, 37, and Md Shahjahan, 9, of West Muslim Para were missing and there was no possibility of recovering their bodies.
As of yesterday, the death toll in the district stood at 120.
Currently, 2,900 people have been living in 19 shelter centres since the landslide hit the district on June 13.
At a press briefing at his office yesterday the DC said rehabilitation would not be done immediately due to weather condition and possibility of further landslide. He however added the overall situation was improving and was within their control.