Crocodile skin brings forex
Country's first crocodile farm in Mymensingh targets export of 1,000 skins a year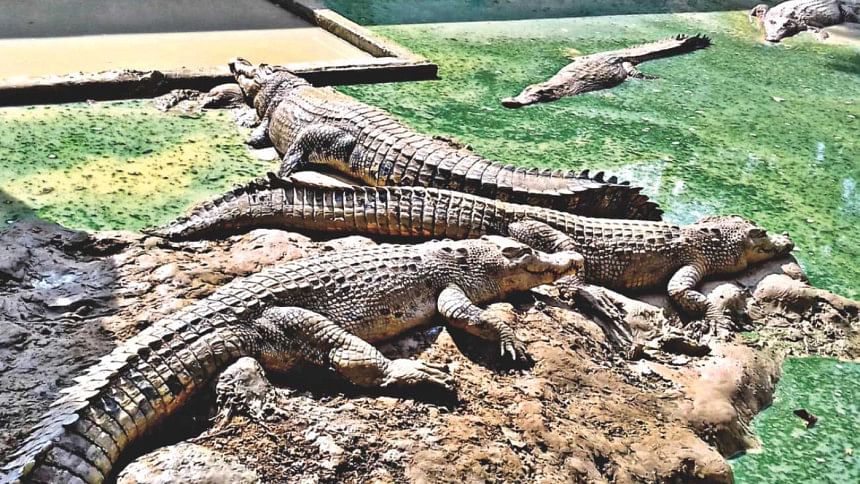 Crocodile skin has emerged as a potential export item due to its high demand in some Asian and European countries.
The country's first crocodile farm, Reptiles Farm Ltd, exported skins of 200 crocodiles to Japan and earned around $1,06,000 in December last year.
Established in Hatiber village in Mymensingh's Bhaluka upazila, the farm has been exporting crocodile skins mainly to Japan for the last three years.
It made its maiden export to the East Asian country in 2014 when it shipped 430 crocodile skins for around $2,00,000, farm manager Abu Syem Muhammad Arif told The Daily Star.
In 2015, the farm exported 400 skins for around $1,65,000 to Japan, he said.
Farm officials said they have a target to export skins of 1,000 crocodiles a year.
The farm started rearing crocodiles commercially in 2004. Initially, it imported 75 saltwater crocodiles, including 15 males, from Malaysia on December 23, 2004, at a cost of Tk 1.25 crore.
Currently, there are some 2,000 crocodiles of different age and size. Of them, 100 crocodiles are at the breeding stage in 40 specially-designed breeding ponds of the farm which covers 13.6 acres of land. The farm also has 10 hatcheries, 600 individual pans and a skin store house, said the farm manager.
There are around 40 permanent and some 30 daily basis employees, he said, adding that the production and skin processing are done at the farm.
A crocodile reaches maturity for skins in three years, while eight to 10 years are needed for their breeding, Abu Syem said.
"There is a great demand for skins in some Asian and European countries but we are exporting those only to Japan," he said, adding that the price of a skin depends on its size and quality.
Crocodile leather is used for making luxury handbags, wallets, belts and boots, Abu Syem said.
Asked how the crocodiles are fed, Abu Syem said they provide chicken, minced beef and small fish daily to crocodiles aged between one and three years.
For those aged between three and above, he said, they give the same fodder but once a week, as it takes time for a grown-up crocodile to digest food.
Mesbahul Hoque, chairman of the farm, said there are huge opportunities to export skins and other items to Japan and other European and Asian countries.
Crocodile meat is consumed widely in Australia, Japan, Singapore, China and the Americas. One kilogram of crocodile meat is sold between $20 and $22 in international markets, he said.
"But we're exporting only skins and other by-products. We dump the meat as export of the item is not allowed in our country," he said.
Rajib Shome, the farm's managing director, said, "We're pleased with the overall activities here, and we have a target to export skins of 1,000 crocodiles a year."
Cost for rearing a crocodile for three years until its maturity is estimated at Tk 25,000 and it is expected to bring in Tk 45,000 to Tk 50,000 in revenues from export of each skin, he said.
According to the farm officials, there are 25 types of crocodiles in the world, the saltwater one being the largest of the species. Saltwater crocodiles can also be reared in freshwater.
There are commercial crocodile rearing farms in some 40 countries, including China, Malaysia, Thailand, Cambodia, Indonesia and Vietnam, and Bangladesh has a bright future in this farming, they said.
Farm officials said crocodile teeth, scrap hide and other by-products could be used for making fashionable commodities, garlands, ornaments, showpieces and purse.
Charcoal made from crocodile bones is used in manufacturing perfumes throughout the world, they said.
About 2,500 trees of 50 different varieties have been planted inside the farm to create familiar greenery for the animal, they said, adding, "The farm also has plans to start rearing other types of reptiles such as tortoise and snake."