Chapainawabganj gets new mango variety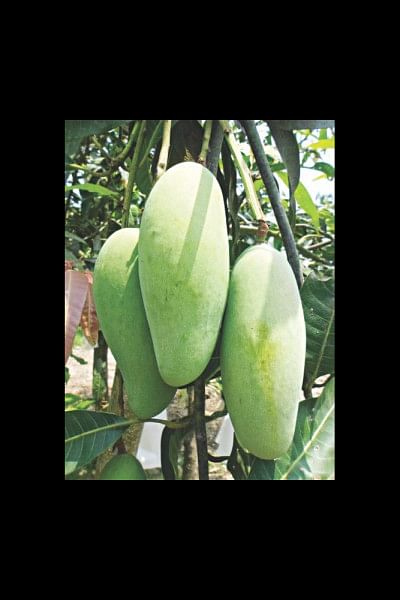 A new variety of imported mangoes is gaining popularity in the mango capital of the country, Chapainawabganj. The exotic fruit winning admirers everywhere is known as banana mango.
Originating from Thailand where it is the most popular variety of mango, the fruit is also being commercially grown in many other countries owing to its export value.
The native name of the mango is Nam Doc Mai but Bangladeshis call it the banana mango for its size and banana-like shape, said scientists at Chapainawabganj Horticulture Centre.
It is also known as the golden mango for a number of reasons. These include high a concentration of vitamin C, a canary yellow skin, an almost silky texture and a much flatter seed or stone allowing for more of its sweet flesh.
On average, the mango's length is 9 to 11 inches, weighing around 350 to 450 grams.
The banana mango was imported from Thailand. In 2011, scientists at Horticulture Centre brought and planted the banano mango fruit tree for the first time.
In 2013, they started selling saplings to mango growers. Many mango growers are showing their interest for commercial cultivation and are already setting up orchards to produce the banana mango variety.
Akbar Hossain, a local businessman of Bulonpur in sadar upazila, made one such orchard and planted around 350 banana mango trees.
Habibur Rahman of Amnura in the same upazila also has an orchard for cultivating banana mango on his three bigha land. Like these two, many others growers are buying the saplings for commercial cultivation, said Dr. Saifur Rahman, deputy director of Horticulture centre in Chapainawabganj.
In the last five years, the Horticulture Centre has sold over four thousand saplings from their nursery, each priced at TK 60.
Due to its attractive export value, people are showing interest in exporting the mangoes, said Dr. Saifur Rahman.
A midseason variety, the ripening time for these mangos is the month of July. The skin of the variety starts off yellow and steadily takes on a golden-yellow hue when ripened. The flesh of the fruit is known for having very little fibre, a pleasant aroma and very sweet taste, almost like the langra mangoes grown in the region.
In the last two years, Bangladesh has been exporting mangoes to different countries. The banana mango, due to its size and colour, enjoys high commercial value and high demand. Thailand and Vietnam are the main exporting countries. 
Dr. Saifur Rahman expected that the banana mango will be exported to many different countries in the near future.
Mangoes are the most important agricultural product of Chapainawabganj and the area has a long tradition of producing around 350 varieties of the fruit, said scientists and agriculture officials.
Monjurul Huda, deputy director of Department of Agriculture Extension, said there are a total of 19 lakh mango trees on 26,150 hectares of land in district, producing 2.40 lakh tonnes of mangoes per annum.