Jessore-Benapole Road Expansion: Century-old trees to stay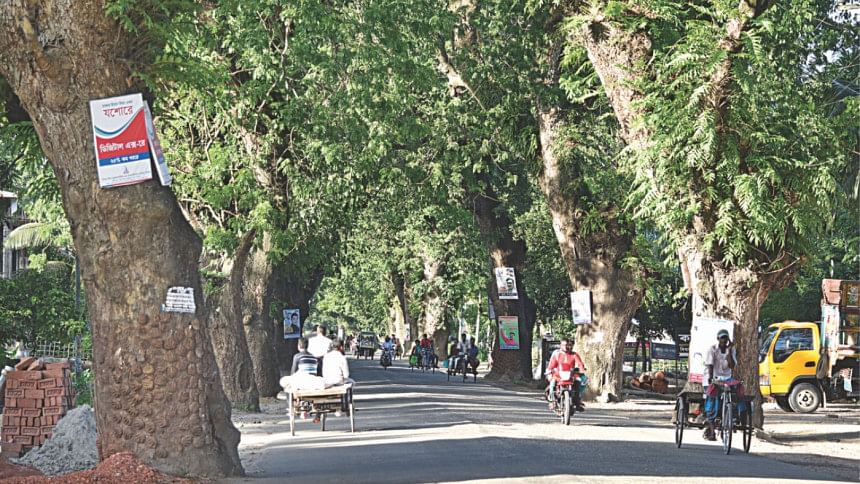 The government has decided to expand the Jessore-Benapole highway without felling the century-old trees along the road, apparently bowing to locals' demand.
The Road Transport and Highways Division (RTHD) has informed the Roads and Highway Department's (RHD) Jessore office about its decision taken recently.
"We will expand the road as much as possible without felling any trees," said RTHD Secretary MAN Siddique.
He, however, added that the road would need to be expanded into a four-lane one in future, and there would be no alternative to cutting down the trees for smooth movement of increased number of vehicles.
The government had earlier taken a decision to chop down around 5,000 different species of trees -- rain tree, shishu and koroi -- triggering protests among environmentalists and the common people.
The decision came in the wake of increased traffic movement due to increased import and export through Benapole, the country's largest land port.
Environmentalists and locals said felling of trees would put an adverse impact on the environment.
In support of their demand, the protesters cited the example of road expansion on the Indian side by keeping the old trees, which apparently convinced the government.
RHD sources in Jessore said the Executive Committee of National Economic Council at a meeting in March approved two projects involving over Tk 650 crore for expansion and sustainable development of Jessore-Khulna and Jessore-Benapole highways.
Under the two projects, over 38 kilometres of road from Daratana in Jessore town to Benapole check post was scheduled for renovation.
There are 2,312 rain trees, shishu and koroi trees, 1,187 electric poles and 52 telephone poles on both sides of the highway.
Besides, a 38km stretch of Jessore-Khulna highway from Palbari crossing to Rajghat in Jessore would be renovated.  
There are 2,555 rain trees, shishu and koroi trees, 1,850 electric poles and 88 telephone poles on both sides of that highway.
The offices concerned have been sent letters with instructions to remove the poles.
The Road Transport and Highways Division now intends to start the renovation work by keeping the trees. Tender for the work is likely to be floated within this month.    
Soljar Rahman, associate professor of geography and environmental science at Government MM College, Jessore, said there is a canopy of green leaves spreading over a 9.12-lakh-square-foot stretch of the highway.
Such green layers protect humans and other animals from the ultraviolet ray of the sun,  he added.
Ali Nurayen, sub-divisional engineer of Jessore RHD, expressed the hope of starting the renovation work as per the new directive.