Rajib now loses his life too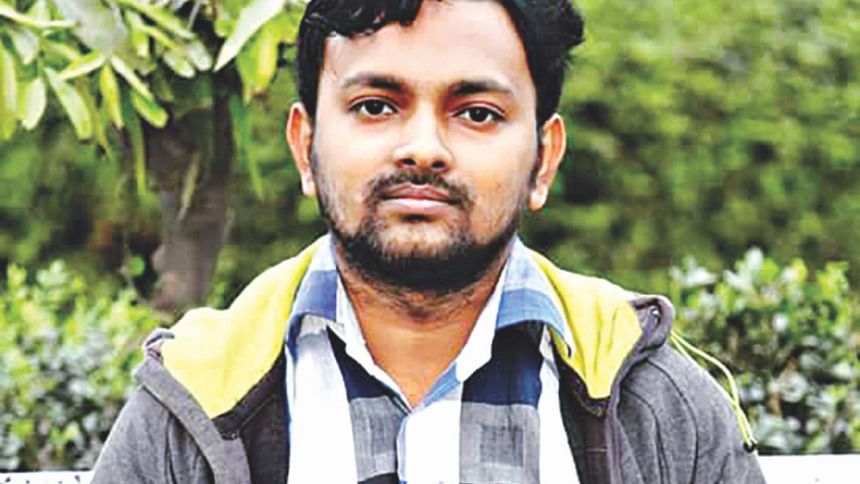 Rajib Hossain, who had lost his right hand after it got stuck between two buses in the city's Banglamotor area on April 4, died early today at Dhaka Medical College Hospital.
"Taking our permission, doctors removed his life support at 12:40am," Rajib's uncle Jahidul Islam told The Daily Star.
The college student, who also suffered brain haemorrhage in the accident, had been on life support in the Intensive Care Unit since April 10. His two brothers had been waiting outside, longing to meet him.
He was in critical condition when Prof MS Zaman Shaheen, head of the orthopedic department of the hospital, spoke to this newspaper yesterday morning.
Rajib was a guardian to his younger brothers -- Abdullah Hridoy, 14, and Mehedi Hasan Bappi, 15, -- after the death of their father in 2007.
Their mother had died when Rajib was only eight years old and the youngest brother was just 10 months. They had all been looked after by extended family members.
Rajib, after his higher secondary certificate exams, began to work in graphics designing in 2012 and partially bore his brothers' educational expenditure. 
"He [Rajib] used to assure them that he would work to help them get established," Jahidul said.
Rajib's heart was beating normally yesterday but his neurological condition due to the head injury had not improved, Prof Zaman said. Rajib's Glasgow Coma Scale (GCS) level was still at 3, as it had been when he was put on life support.
The GCS is the most common scoring system used to describe the level of consciousness of a person following a traumatic brain injury. A healthy person's GSC level is generally between 14 and 15.
Prof Zaman, chief of the seven-member board formed to oversee Rajib's treatment, said doctors were trying their best and were giving him the best possible treatment.   
Meanwhile, a Dhaka court again rejected bail prayers of the drivers of BRTC and Sajan Paribahan buses responsible for the accident.
They are BRTC bus driver Wahid Ali, 35, and Sajan Paribahan driver Khorshed, 50. The two were earlier placed on a two-day remand each. They were sent to jail yesterday.